It is a really popular trend, a customer buys one, and they get another for free. Almost any business does it, from ukay-ukay clothes, to shoes, to computer peripherals. But the most popular buy one take one today is food. Buy one take one burger, to be exact.
From the very big and popular Burger Machine or Minute Burger, to the small scale food kiosks, buy 1 take 1 burger franchises are sprouting everywhere. Almost any street, any corner there is a burger joint that offers this two for one treat.
However, popular and big franchises cost a lot. Ranging from around two hundred thousand pesos to five hundred grand, a buy one take one burger is almost always reserved to the rich business moguls.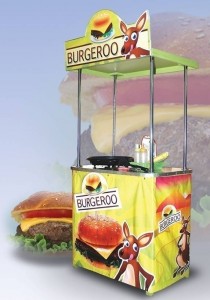 But that is in the past. A franchising company offers buy 1 take 1 burger franchise, given an oh-so-catchy name, Burgeroo.
For P26,888.00, the ordinary Juan dela Cruz can start their own burger franchising business. For an amount as small as a regular high end cell phone's price, the franchise already includes a small kiosk, complete cooking equipment plus unlimited training for the franchisee and their crew.
Burgeroo, though, is not just an ordinary small scale franchising. It is backed up by an industry giant, called Filtrepreneur Franchise Inc. and Red Cricket Vending Concepts which started eighteen years ago. That is an expert there, my friends.
Wanting to start a buy 1 take one burger franchise, but you only have a handful of money but a lot of courage to start? Burgeroo might be the answer. Click here to ask our resident expert on how to apply for one.