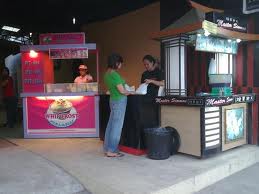 The Philippines soar high with its franchising business systems bloating to almost 430% within 10 years. What's with this popular trend that inclines business-minded Filipinos toward engaging in one, two, and more?
Partnership. The key point of franchising is its assurance of hand-in-hand business venture. People from big companies become the captain leading simple entrepreneurs into navigating the very complex and critical world of acquiring profit in a stable condition.
Franchising Package. Aspirants are given their business kit like privilege to be able to start from the beginning without fearing for undefined areas and missed out requirements for business build up.
use of trade name and logo – the company has invested on their franchisee the right to use their protected brand name and representation.
training, marketing and sales campaign – publicity and advertisements are shouldered by the mother company for franchise business looks like a spider web which shows your enclosure within the productivity of the mother company.
initial inventory – to avoid lapses and as part of the training, franchisor will shoulder the initial inventory and eventually, it would be your standard inventory to follow to ensure accuracy.
location  and renovation – this is the most exciting part since for your business to really boost and reach the target market, the company's researchers will look for a good location to set-up your business franchise. But, your own idea is also considered. Plus, renovation of franchise establishment such as fast food chains is guaranteed supervised and aided by the company to ensure consistency and adaptability.
food carts – in small scale franchising, food carts and kiosks are also part of the package; painted and with the products name and logos on it. All it needs is the crew to look after and the products to be placed on.
insurance, discounts, and gift checks – these are some of the freebies included in the package. Some scholarships, medical benefits, and insurance are good enough.
staff uniforms and equipment – you do not have to worry about missing physical resources for even mere equipment are also enlisted and provided.
product updates and price lists – any improvement, innovation, and revisions in the current products and prices will be directly addressed and you do not have to squeeze out you mind for new gimmick.
franchise seminar, and business registration seminar – this comes in handy; as part of the package you are given the standard managerial equipment to be able to make your business franchise ensure longevity and efficiency. Plus, the company will be your best guide in undergoing legal processes and acquiring licensure requirements.
Minimal Investment. Putting up your savings into an investment is crucial, especially if you do not know how far your meagre savings can reach. With business franchising, you can be your own boss for as low as 10,000 pesos for small-scale franchises. Depending on your budget, you have diverse product options to choose from; from food stalls to restaurants, review and education centers, to personal  care products.
So, get your own franchising business now, right here in the Philippines.