Borgy's question may seem irrelevant, but it provoked me to write an article that is super relevant in making a business fly high:
What do you think about Magnum Ice Cream? hehehe

– Borgy
Trick question? 🙂
Magnum Ice Cream, while expensive at Php55.00 as compared to Cornetto or Drumstick which are sold at Php25.00, is being sold out left and right from every convenience store . I have to say, marketing strategy is very effective and yet I have not seen a single commercial on the TV. How did they do it?
Social Media is a Great Way to Advertise
Many of my friends have a picture of themselves eating a bar of the expensive ice cream on Faceboook and it is the pressing reason why I tried it. (To be honest it was too plain for me. I'd go for Cornetto Disk next time.) None of them were paid to post their picture on Facebook but I will bet a hundred thousand pesos, Selecta paid a ton of social bloggers to post their picture online and recommend it to their readers. I know how it works, one was a high school classmate of mine.
Then the readers do what their idols do and post a picture of them eating the ice cream at social media sites like Facebook, Twitter or Google Plus.
The friends of these people, whether they read social blogs or not, follow suit and post their pictures online — who does not want to look cool and fit in? Those who do not fall for the trick  still buy the ice cream out of curiosity.
But Word of Mouth is Still Best
The oldest form of advertising, word of  mouth recommendation is still the best, and a part of the campaign. Those who tried and liked the ice cream (whether they like the taste or the social stature it brings) recommend the ice cream to their friends. Selecta reels in the profits.
To Summarize the Process:
Here are the steps to get your stuff viral the Magnum Ice Cream way. And because I am trying to be funny, I will do this in a meme fashion:
1. Pay social bloggers and celebs to post their pictures consuming your product.
2. Let the internet to the work.
3. ????
4. PROFIT!!!!
21 Things That Go Viral Over the Internet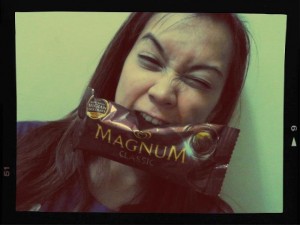 Paying people to get your stuff viral is not the only way, though. People share a lot of things over social websites every single day. But what makes a viral-worthy topic?
funny
artistic / beautiful / cute
thought-provoking
shocking
numbers
animals
sex
gossip
timeliness
event-relevant
inspiring
fact
charitable
myth-busting
social
intelligent
inquisitive
emotional
unconventional
organic (more commonly known as genuine, not fake)
any combination of the above.
Ask the Franchise Coach is where I answer (when time permits) personal emails about franchising and small businesses. Send your questions to: ask[at]foodcartfranchisephilippines[dot]com.
Posts that you might like: