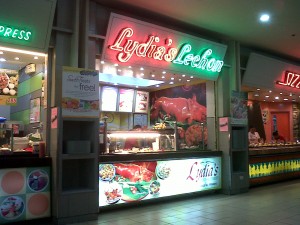 When there is an event, a party, a salu-salo, the Pinoy host and the guests know that there is nothing more iconic than the lechon… that whole slow roasted pig, with crunchy skin and tender, juicy, delicious meat that melts in your mouth…. (My mouth is watering!)
The lechon is the symbol of wealth and abundance during social gatherings. Sosyal na sosyal! A lechon business is one of the most profitable franchises you can have. Lydia's is the leading name in lechon, and it is open for franchising.
About Lydia's Lechon
Lydia's started with a small capital of P500.00 in 1965. Lydia and Benigno de Roca, the founders on this lechon tycoon, opened a small stall lechonan just outside Our Lady of Sorrows Church in Pasay. Church goers tried and loved the delicious Cebu-style lechon they were selling and soon, word of mouth had spread, and Lydia's lechon had more than enough customers that order whole lechon to keep the business afloat.
The first self-service restaurant was opened in 1986 on Roxas Blvd, Baclaran and opened a new product: boneless lechon stuffed with seafood paella. The restaurant grew because of the popularity of the new product. They had to transfer to a bigger space to accommodate a bigger crowd of patrons.
Presently, there are 21 branches of Lydia's Lechon and counting, bringing delicious meals that melt in the mouths and hearts of the Filipinos.
Mission of Lydia's Lechon
We focus our efforts in consistently satisfying the needs and expectations of our customers
We continuously strive to give not only quality products but quality service as well
We are committed to the highest standard of integrity,professionalism and business ethics
We recognize that we have spiritual,social, and moral obligations to God, our community and our people.
The Benefits of Starting a Lydia's Lechon Franchise
Lydia's Lechon is a recognized brand. When you ask a Filipino where to buy delicious lechon, they will answer, "Lydias". Lydia's Lechon is patronized everywhere in the Philippines, and many will traver for hours to buy whole roast pigs.
Lydia's operate more than 20 branches nationwide, and they are skillfully managing them with a proven system that they will impart with you if you get approved for franchising.
When you start a business as popular as Lydia's, you are ensuring profits in the near future.
How to Start a Lydia's Lechon Franchise: Franchise Fee, Inclusions and Requirements
The franchise fee for Lydia's Lechon is P7,000,000.00 for a free-standing restaurant, P3,000,000.00 for a food court stall and P750,000.00 for a kiosk type stall. This includes the following:
use of trade name, logo and signages
franchisee and staff training
site inspection
research and development, business updates
procurement program and operations manual
Lydia's Lechon will need you to provide the following:
site of business – there is a required space for the three franchise packages
store construction
restaurant equipment, tools and supplies
Contact Information
To start franchising, Lydia's Lechon would want you to get in touch with them. You can contact them through the following contact information:
Website: www.lydias-lechon.com
Facebook Page: www.facebook.com/pages/Lydias-Lechon-Official/453454724672376
Email: info@lydias-lechon.com
Phone: (02)939-1221, (02)939-4665
Address: Lydia's Lechon, Inc.118 Timog Ave., Quezon City, Philippines
Posts that you might like: