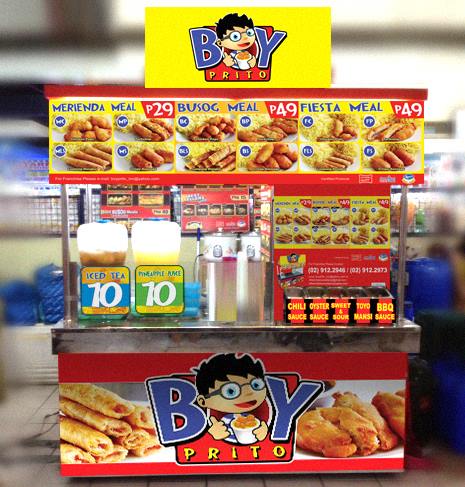 Pinoys love to eat. No doubt about it. The fastest selling food stuffs, though is fried meats with rice. Think fried chicken, porkchops, lumpia. That's where food carts, which are sprouting everywhere in the Metro, indicating this particular niche is super profitable.
This is where Boy Prito Comes in. Boy Prito offers lots and lots of snacks for the busy people who are hungry, but are tired of the regualr fast food items. Fast, quick and delicious. That is the Boy Prito experience.
About Boy Prito
Established in 2012 to cater to the ever growing demand for fried meat on a stick, Boy Prito started operation in Victory Mall, Caloocan. the franchise served the hungry pedestrian fried pork chops, lumpiang shanghai, fried hotdogs with rice. The huge servings of rice and the sauces that people can choose from was the main selling point of the food cart. Served hot and fast, Boy Prito became popular that the entrepreneurs who started the food cart started having Boy Prito franchised. You can start having a Boy Prito Food Cart too.
Why Franchise Boy Prito?
Boy Prito is a brand that is currently under development and people are already starting to recognize the brand.
With a great managerial team, Boy Prito can jump start their frnachisee's businesses using their skills and expertise in teh food cart business.
Boy Prito already has a huge success in the food cart industry and they can share the secrets with you, as their franchisee.
Rice meals are a staple to teh Pinoy diet. Very rarely that you will see a Filipino eating lunch without rice. A huge serving of Java rice is teh mains elling point of Boy Prito.
How to Franchise Boy Prito: Franchise Fee and Requirements
The franchise fee for Boy Prito is P75,000.00, and the franchise package includes the folowing:
1 unit BOY PRITO Cart (1.8m x .75m x 2.2m)
 1 unit 30-cup Rice Cooker
 1 unit Range Hood
 2 units Deep Fryer
 2 units Juice Dispenser
 2 sets of Service Crew Uniform
 Cooking Utensils
 Initial Stocks worth P5,000
Initial Term: Four (4) years
Royalty Fee: Fixed Continuation Fee/ month (P3, 000.00/ month)
Required space: minimum of 3 square meter
How to Start Boy Prito Franchise?
You can start franchising Boy Prito by Conatcting the franchise manager through:
West Triangle, Quezon City 1104
Tel: 579-7578 / 579-7579, Fax: 371-7366
Email: boyprito_inc@yahoo.com
RK FRANCHISE CONSULTANCY, INC.
G/F Minnesota Mansion, 267 Ermin Garcia St.,
Cubao, Quezon City, Philippines
Tel: (02) 912-2946 / 912-2973
Fax: (02) 911-1966
Cebu Branch:
Tel: (032) 253-5010
Fax: (032) 254-0473
Email: rk@rkfranchise.com;
rkfranchiseconsultancy@yahoo.com
Posts that you might like: