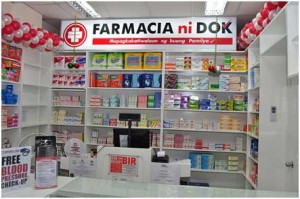 Different drugstores are popping out everywhere in the country and yet, Filipinos still look for a drugstore that can offer affordable medicines both generic and branded to address their medical and health needs. Farmacia Ni Dok is capable of meeting these needs by providing better and more alternatives in the area of healthcare. The good news is that the company is open for franchising for reasonably priced franchise fees and capital plus package inclusions that every entrepreneur will find worthwhile.
Why Farmacia Ni Dok?
Here are some reasons why Farmacia Ni Dok is a good franchise option.
Member of the 3 biggest franchise associations in the country, namely – AFFI, PFA, and FIFA
Franchise fee for as low as P99,000.00 – one of the lowest fee in the country!
Product range that includes branded, generic, and natural supplements
Point of Sale (POS) that enables you to monitor your business anywhere through the internet
POS system has three years warranty
Has strong partnership with Francorp Philippines and United Laboratories.
Business Tie-up:
Nature Spring Drinking Bottled Water: (Mineral, Purified, Distilled, Alkaline)
Ayannah E-Load Wallet: Globe, Smart, Sun, Talk & Text, TM, PLDT etc.
Happy Haus Donuts: Wide variety of delicious and soft donuts.
Coffee, Chocolate and Caramel Vending Machine: a very profitable and convenient hot drink at a very affordable price
Western Union: The biggest international money remittance center.

Franchise Package Options

Standard Franchise Package
Initial investment – P399,000.00
This is an All-Generic package which includes generic medicines, food supplements, and galenicals. If the franchisee wishes to add branded medicines later on , additional investment is required.
Premium Franchise Package
Initial Investment – P699,000.00
This package is similar to Standard Franchise package but with additional branded and natural supplements.
3-in-1 Master Franchise Package
Initial Investment – P1,999,000.00
This package includes a 3 Premium Franchise Package and can be availed through staggered basis.
Franchise Benefits
Right to use Farmacia Ni Dok trademark, name and logo
Site evaluation assistance
Store design and construction assistance
Documentation and business assistance
Comprehensive Franchise Operations Manual
Start-Up and pre opening assistance
Extensive training on pharmacy retailing, business management, store operations, customer service and personal development
Complete POS and BIR-Compliant Accounting System for a hassle-free business
Grand Opening, Advertising and marketing support
Continuous supply not only of generics and branded medicines but also of proven and potential natural or herbal medicines
Lower prices compared to other generic pharmacies
Higher profit margins or mark ups
Personalized service
Ongoing business guidance and consultations
Pre-opening and post opening marketing assistance
Assistance in Staff Hiring and selection
Continuous pharmacy and training program
Well monitored delivery of quality products
Realistic setting of sales objectives
Marketing Support in terms of Sales strategies, plans, activities & Materials
Continuous Product Development
Periodic store evaluation and compliance
Attend business/franchise opportunity seminar
Choose a package
Submit the following documents
Letter of Intent
Filled up Franchisee Pre-Qualification Form
Resume
Valid ID's
ID picture
Vicinity Map
Picture of Perspective site and neighboring area
Payment and signing of Agreements
Ocular Inspection
Preparing permits, licenses and other regulatory requirements
Construction of Site
Training program for the employee and turnover of Franchise Operation Manual
FDA License To Operate release
Deliveries
Finalization
Trial Stage
Grand Opening
After Sales support

Site Requirement
Stand alone store with at least 15 square meter area.
Must be located near community centers, public markets, transportation terminals
Must be located near commercial or residential area with heavy traffic
Contact Details
For more information about the Farmacia ni Dok franchise, you may contact them through any of their contact details below:
Website: www.farmacianidok.com
Facebook Page: www.facebook.com/farmacianidokinc
Twitter: twitter.com/farmacianidokph
Email: fdlaureta@farmacianidok.com, aiconcepcion@farmacianidok.com
Phone No.: (02)234-5361, (02)661-7640
Fax No.: (02)234-2623, (02)470-2831
Mobile No.: 0917-542-9570
Address: #970 E.Rodriguez Sr. Avenue, Barangay Mariana, New Manila, Quezon City, Philippines