Ink Man Refilling Center, the leading ink product provider in the Philippines, has expressed their desire to welcome businessmen in being part of this growing company. If you share the same dedication in giving affordable products without the expense of harming the environment, Ink Man is a perfect franchise choice for you.

Company Background: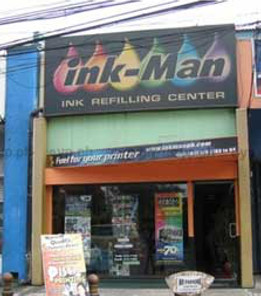 Ink Man has been providing eco-friendly ink recycling system for the public since it has started in 1999. The founders had the vision of lending an alternative to expensive and imported ink cartridges that has burdened printer users for some time. This they do without compromising the quality of the ink itself. Now, Ink Man has successfully helped many Filipinos in saving money, and also helped protect Mother Earth through this ink recycling system.
Why Ink Man is a good franchise option:
Ink Man implemented a special rule to benefit interested franchisees. The first 10 qualified applicants will be given the privilege of being the exclusive dealers in their respective areas. This means that a franchisee will enjoy being the only ink refilling center within his/her area resulting to better profit and more customers.

More benefits:
A fast return of investment
Easy to manage
Comprehensive training and development
Strong brand recall
Franchise investment financing
Franchise Package Cost
Initial investment – P50,000.00
Reservation Fee – P10,000.00 (refundable)
Franchise Package Inclusions:
Use of company name and logo
Site selection and evaluation
Management and personnel training and development including seminars
Tri-media marketing business visibility
Research and development
Company operations manual
Inventory control and initial stocks

Terms – 6 months renewable
Site Requirement:
Must be located in high traffic residential or commercial areas preferably near schools
4-20 square meters minimum space for express stores
10 square meters minimum for regular stores

How to apply:
Pay the reservation fee of P10,000.00 (refundable)
Submit the following documents:
2 pcs. Valid ID
Photocopy of business permits (if there is an existing business)
Latest proof of billing
Letter of Intent
Vicinity map of proposed location
You will be notified by Ink Man if your application is approved or denied
Site evaluation will follow for potential franchisees
Meetings to discuss business details
Franchise is awarded
Contact Details
If you need information regarding this franchise, you may contact them through any of their details below:
Website: www.ink-man.com.ph
Facebook Page: facebook.com/pages/Ink-Man-Philippines/307896545938287
Email: inkmanventures@yahoo.com, gmalapo@yahoo.com
Manila Phone No.: (02)383-9951, (02)387-1846
Manila Fax No.: (02)374-7103
Iriga Telfax No.: (054)456-1739
Mobile No.: 0922-890-5457, 0922-857-9249, 0923-635-0122, 0917-628-4956, 0947-890-3368
Manila Address: Unit 6-0, Future Point Plaza 3, #111 Panay Ave., South Triangle, Quezon City, Philippines
Iriga Address: Zone 4, San Jose, Iriga City, Bicol Region, Philippines