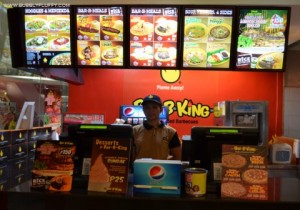 Bar-B-King, a popular Filipino restaurant that serves grilled food, is open for franchising and is welcoming budding entrepreneurs to join its fast growing restaurant chain in the country. Interested franchisees will have the opportunity to own a reliable business for a low investment cost. Aside from the promise of business growth, the company also assures that franchisees will enjoy total support and guidance from the company's skilled team from site selection, training, pre-opening, up to the branch's grand opening. This will promote the company's goal in maintaining its standards on food service.

Company Background
Bar-B-King is a quick service restaurant established in 2010 and has been franchising since 2011. It is owned by Food Asia Corporation, the company who also run well-known eateries such as Bibingkinitan, The Bibingka Café, and Tea Square. Bar-B-King serves tender and juicy charcoal-grilled barbecues such as liempo, beef, steaks, pork, pork chops, seafood, and vegetables. It offers a unique taste when it comes to grilled dishes at affordable prices. Aside from the delicious barbecued dishes, customers also enjoy the restaurant's excellent service and the outdoor ambience that gives dining a cozy feel.

Branches
15 – company owned
5- Franchise

Franchise Information
Franchise Fee – P50,000
Total investment Package : P350,000 – for Bar-B-King Express, P450,000 – P500,000 – for Bar-B-King Restaurant
Projected Return of Investment – 1-1.5 years
Terms of Franchise – 3 years renewable
Royalty Fee – None
Advertising Fee – none
Franchise Package Inclusions:
Use of Bar-B-King trademark, name, logo
Start – Up Assistance
Pre Opening Assistance
Site Selection Assistance
Location Evaluation Assistance
Comprehensive Franchise Operations Manual
Management and Personnel Extensive Training
Products, Services and Supplies Discounts
Aggressive marketing and promotional assistance
Grand store opening assistance
Franchise Application Procedure:
Aspiring franchisees must submit the following completed requirements:
Letter of intent
Vicinity or location map of the proposed site
Comprehensive resume and colored ID photo
Filled out Franchisee Application Form
Potential applicants will be called for a personal interview.
Site evaluation
If the proposed location is approved, meetings between franchisee and franchisor will follow to discuss business details.
Granting of franchise.
Site Requirement
At least 20 to 30 square meters for Bar-B-King Restaurant
At least 5-10 square meters for Bar-B-King Express
Must be located in malls, supermarkets, gasoline stations, hospitals, offices
Areas with high pedestrian and vehicular traffic
Contact Details
For more information regarding the Bar-B-King franchise, you can contact them through the following contact information:
Website: www.bar-b-king.com, ph.restaurant.openrice.com/bar-b-king/
Email: info@foodasia.com.ph, rvs@foodasia.com.ph
Phone No.: (02)846-4646
Fax No.: (02)809-0884
Address:  Food Asia Corporation 2nd Floor, Unioil Center, Acacia cor. Commerce Ave., Ayala Alabang, Muntinlupa City, Philippines
Contact Person:
Mr. Richard V. Sanz, Chairman and CEO
Ms. Maria Jasmin Lopez, Franchise Officer
Posts that you might like: