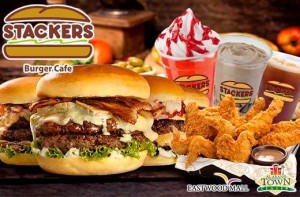 Stackers Burger Café, the home of the first baked fried chicken is now open for franchising. Owned by IFoods Inc., a franchisee will enjoy the benefit of being part of a restaurant chain known for its high quality coffee, and first rate dishes. Its clientele ranges from A to C, from all age group. The company will be in charge of the layout and design of the future outlet to keep that hip and colorful ambience that is associated with Stackers. with its growing popularity, there is no doubt that investing in Stackers Burger Café is a perfect business venture for anyone who has the passion for food business.

Company Background
Stackers Burger Café is owned and operated by iFoods Inc., the company behind some of the famous restaurants in Metro Manila today such as Peri Peri Charcoal Chicken, Tokyo Café, and Kogi Bulgogi. iFoods is owned by Bryan Tiu, one of the youngest restaurant mogul and was awrded in 2005 by Erns and Young. Stackers Burger Café was founded in 2009 and since then has been the refuge of coffee connoisseurs who love good quality coffee. While enjoying their coffee made from 100% Arabica beans, customers can also savor the taste of the country's first and original Baked Fried Chicken. The store's premium burgers are made from imported pure beef patties served with their own unique burger sauces. In Stackers, you can pile up your burger with your desired toppings like fresh vegetables and cheese. Aside from coffee, the restaurant also serves an array of beverages like drinks and shakes. Stackers Burger Café now has 5 stores scattered within popular commercial areas in Metro Manila.
Core Products
Burgers
Baked Friend Chicken
Fries, Nachos and fish
All-day breakfast
Sandwiches and burgers
Soup, Salad, and Pastas
Coffee
Milkshakes, Fruit shakes and Glaciers

Franchise Information
Total Investment Package – Php 8,486,322.00

Franchise Inclusions
Use of trademark and logo
Comprehensive Operations Manual
Extensive in restaurant operations
Marketing and advertising assistance
Continuous product innovation
Retail development
Contact Details:
For inquiries regarding stackers Burger franchise, you may contact them through the following contact information.
Address: I-Foods, Inc. Unit 5, 2nd Level City Center Building 38 Ortigas Avenue Greenhills,
San Juan, Metro Manila, Philippines
Contact Person: Mr. Marc Joseph Bernisi, Franchise Officer
Tel: ((+632) 705-1496 loc. 103
Fax: (+632) 723-6033
Email: bernisimarcjoseph@gmail.com / ifoodsincfranchise@gmail.com
Website: http://www.ifoodsgroup.com