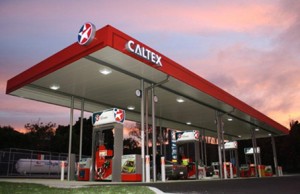 Be a franchise owner without paying Franchise Fee and Royalty Fee. Be part of a world-class company with the strength to back you up when it comes to resources ensuring a successful business venture. Caltex has been a household name for almost 80 years and maintains a strong commitment in providing excellent products and services to its customers. As business partners, Chevron will provide support from the time you apply for a franchise to the time you begin your operations. The company is known for exercising honesty in their business dealings and placing value to every business relationships they create.

Company Background
Caltex Philippines was formed in 1936, when Texaco (Texas Company) joined forces with Standard Oil Company (California). Unfortunately, the company suffered terribly during the Second World War, but in the 1960's Caltex reemerged and eventually became the country's leading oil company. At the start of the new millennium, Chevron and Texaco, Caltex's two parent companies formed a merger making Caltex one of the biggest distributors of oil and other petroleum products in the world. In 2006, Caltex Philippines became Chevron Philippines, Inc., while the Caltex logo remained unchanged.

Who can be a Caltex Franchisee
Committed to the Caltex values – that is delivering clean, safe, and reliable customer experience
Has the ability to conduct business ethically with respect to the law, protecting the environment, and beneficial to the community
Has sufficient financial resources and experience in retail marketing
Open and willing to grow with the company
Currently owns or can acquire a land with a minimum land area of 1000sqm.
Benefits of being a Caltex Franchisee
Total ownership and lifetime investment – a franchisee will enjoy complete ownership of the land and business operations. Chevron will also provide financial packages and introduce you to local financial institutions to ensure a successful business operation.
Flexibility in the set up- you have the option to customize your promotional offerings to meet your customers' demands.
Maximize backcourt partnerships – you can have partnerships with restaurants and other business establishments to help maximize your earning potential.
No royalty or franchise fees

Franchise Details:
Facilities and Equipment Cost :  P5 M – P7 Million
Operating Capital : P2 M – P3 M
Retailer Agreement Term : 5 years, renewable
Lot Lease Agreement : Secured term of 10 years (minimum)
Equipment :  Sourced through Chevron accredited vendors

Franchise Package Inclusions
Right to use Caltex brand name
Signage
Site design
Training on business planning, product knowledge, management, facilities upkeep, safety, and security
Brand and Marketing Support
Caltex Retailer's Manual
Caltex Stock Management Process
Customer Service Tracking System
Fuel Quality Tracking System
Customer Service Centre
Financial Support
Site Requirements
Site must be at least 1,200 sqm
Frontage should be at least 40 m
Site Volume Potential – 200,000 Liters Monthly (minimum) as determined by Chevron
Franchise Application Procedure
Present your site for Caltex approval
Complete an application form
A Caltex representative will interview you at your home
Suitability check- on-the-job training and evaluation
Background check – your financial background will be checked
Board approval
Contract signing and completion of a 2-week New Retailer Training Course

Contact Details
For more information with regards to the Caltex Franchise, you may make your inquiries at the following contact details.
Address: Chevron Philippines Inc., 6/F 6750 Ayala Avenue, 1226 Makati City,     Philippines
Telephone: (+632) 841-1029
Mobile: 0918-8015056
Fax: (+632) 841-1092
Email: askcaltex@chevron.com
Website: http://www.caltex.com.ph