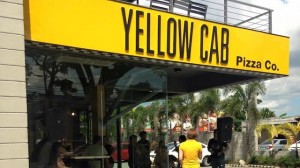 Vespa motorbikes, great tasting pizza with generous toppings, – all these are what Yellow Cab Pizza is famous for. And now you have a chance to be part of this growing company as it welcomes investors in its expansion program. The company is looking for entrepreneurs who are driven to succeed, experienced in people skills, willing to undergo extensive training in store operations and is eager to allot time in handling the business personally. If qualified, franchisees will benefit from the support provided by the company from site selection, pre-opening assistance, and throughout the duration of the franchise contract. Moreover, franchises will get the chance to gain customers for representing a brand that offers a variety of yummy pizza menus served in restaurants designed to make them feel comfortable.

Company Background
Yellow Cab originated in New York, serving pizza with premium ingredients and lavish toppings. The first Filipino Yellow Cab restaurant opened in April 2001 in Makati Avenue with an aim to bring the New York-styled pizza to the Philippines. Serving pizza with fresh ingredients, crisp and slightly-charred bottom, and a generous sprinkling of toppings, the company eventually gathered customers nationwide. The restaurant's friendly ambience made it a popular venue for family gatherings, friend's meet-ups, and even corporate meetings. Although pizza is the core product of the restaurant, it also serves a variety of desserts, hot wings, pastas, and other delectable food. Currently, there are more than a hundred Yellow Cab outlets in the Philippines alone and still counting.
No. of Outlets
Company Owned – 83
Franchise – 21
International – 7

Franchise Information
Franchise Fee – P1,250,000
Total Franchise Cost
P8M – P12.5 M for shell type, retro fit restaurant
P11M – P14M for free standing (lot lease) store
Projected Return of Investment – 48 to 54 months
Royalty Fee- 6% of total gross sales
Marketing/Advertising Fee – 3% of total gross sales
Franchise Term – 10 years
Renewal of Contract – 5 years

Site Requirement
80sqm- 120sqm for retro fit stores
130sqm-180sqm for free standing or stand alone stores
There must be parking lot allocation
Heavy pedestrian and vehicular traffic

Franchise Package Inclusions
Franchise Fee
Site selection assistance
Store design and construction
Rights to use company name and trademark
Rights to use recipes from the company
Yellow Cab Operations Manual
Major Equipment such as furniture and fixtures, air-conditioning unit
Delivery Bikes
Initial Stocks
Pre-operating Expenses
Signage
In-store and classroom training
Assistance regarding the packaging of the foods
Advisory Service on promotional, business and operational concerns
Periodic visits by the skilled team from the company
Franchise Application Procedure
Submit a Letter of Proposal to Yellow Cab Food Corporation
Submit a map of the proposed site.
Submit a picture of the proposed site
Site inspection and approval
Follow-up Meetings
Granting of franchise
Contact Details:
If you are interested in acquiring a Yellow Cab franchise, you may get in touch with them at the following contact information.
Website: www.yellowcabpizza.com
Facebook Page: www.facebook.com/YellowCabPizzaOfficial
Twitter: twitter.com/ycpizzaofficial
Email: busdev@yellowcabpizza.com
Phone No.: (02)856-1234 loc. 120
Fax No.: (02)856-6954
Address: 5485 South Super Highway corner General Tinio St., Brgy. Bangkal, Makati City, Philippines
Posts that you might like: