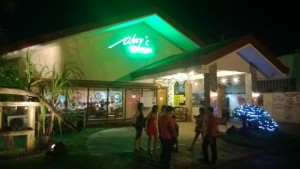 A haven for food enthusiasts and travelers, Aboy's Restaurant is one of the most visited places to dine when in Bacolod City. It captures the heart of every local and foreign tourists of the province, until now the prices they offer are affordable and reasonable enough to taste the secrets of their success.
It offers a wide array of food on the menu such as: Main Course, Grilled, Soup, Steamed, Desserts and snacks. Aboy's Restaurant also accepts advance reservation for tables and function room perfect for meeting and special occasions.
Additional Feature:
For group of friends and family, Aboy's Restaurant has prepared four (4) Food Packages best to accommodate 5 diners. Prices start from Php290.00 to Php315.00 per person, each food package includes:
5 rice
5 drinks
4 main dishes ranging from 300-500 grams
Soup
Company's History
Started as a small eatery in February 1992 located near Burgos Public Market that catered nearby offices and representatives of pharmaceutical companies, Aboy's Restaurant later on enjoyed the privilege to be known in Bacolod City.
The owners of this restaurant are actually Mr. Nestor and Rodelia Evaristo who only had Php5, 000.00 as their capital money.
Through the word-of-mouth by the people who have tried to savour the tenderness and delicious regular house made recipes, Aboy's small eatery became a restaurant after a year of striving hard to provide mouth-watering and fulfilling Filipino cuisines to each and every diner. The company even added their staff to attend to diners' orders and needs, moreover in just a span of four (4) years Aboy's Restaurant was moved with the capacity to accommodate 250 customers to a better location near the Goldenfield Commercial Complex where the casino and some of the hotels are also located.
Aboy's Restaurant welcomes interested franchisee to be part of their growing company.
Franchise Details:
Estimated Total Investment: Php6, 000,000.00
Franchise Fee: 800,000.00
Initial & Renewal Term: Eight (8) years
Royalty Fee: 5% of gross sales
Required Space: 200 square meters
Every Franchisee will enjoy the following benefits of Aboy's Restaurant:
Use of Trade Name and Proprietary Marks
Use of recipes, ingredients and procedures
Site approval and construction supervision
Training for Franchisee, Supervisors and Staff
Procurement Program
Pre-Opening Assistance
Grand Opening Assistance
Post Opening Assistance
Operations Manual
Research and Development
Marketing and Promotional Assistance
For other business opportunities with Aboy's Restaurant you may contact them at these details:
Landline: (034) 4350760
Address: Liroville Subdivision, Singcang, Bacolod City
Email: info@aboyrestaurant.com
Website: http://www.aboysrestaurant.com/
Posts that you might like: