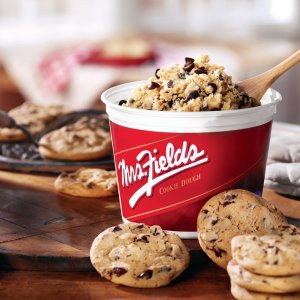 Mrs. Fields is one of the largest and popular retailer worldwide when it comes to freshly baked cookies, brownies, pastries and refreshments. It has now 21 branches available in the Philippines and most of them can be found in well-known malls such as: Trinoma, SM North Edsa, Eastwood Mall and Alabang Town Center for more than 20 years.
Through its mission "To Treat the World with Sweet Gifts and a Warm Smile" each store continuously provides affordable sweet foods for every food enthusiast.
Mrs. Fields now offers gift options dedicated for different occasions needed by the customers namely Business Gift Ideas, Party Flavors & Giveaways and VIP gifts that can be orders in different sizes.
Company Background
Mrs. Fields was founded by Debbie Fields who has a husband that truly believed in her magical baking capabilities that became famous with Randy's friends and business associates. She and her husband Randy decided to open her first store at Palo Alto, California way back in August 13, 1977, since then Mrs. Fields has been a multi-million dollar company.
In May 2012, Mrs. Fields has moved its headquarters from California to Denver in Colorado believing that the increasing quick service companies were launched it is very ideal environment to be placed from very commercial area with potential and loyal customers.
Up to date, Mrs. Fields has 35 years of International Brand success that also provide assistance in finding the perfect location.
Franchise Information:
Mrs. Fields Kiosk Package
4-6 Square Meters
Investment Package: 750,000.00
ROI: 2-2.8 Years
IRR: 30-40% Annually
Mrs. Fields. Coffee Bar Package
9-12 square meters
Investment Package: 1,100,000.00
ROI: 2-2.5 Years
IRR: 40-50% Annually
Package Inclusions:
Store Location Assistance
Store Design & Planning
Construction and Set-up
Equipment and Wares
Initial Stocks and Supplies
Marketing Collaterals
Training of Franchisees
Personal screening and training for the first batch of store employees
Franchise Fee
How to Franchise
Contact the Franchise Center to send in Applications
There will be series of meetings with the Franchise Development Experts
Accomplish and submit the required documents when ready, here below are the important documents:
Letter of Intent and Application Form as Initial Requirements.
Sec Registration or DTI Registration, Secretary's Certificate and By-Laws and Articles of Incorporation as Legal Requirements.
NBI Clearance, Curriculum Vitae of Management, Company Profile (if applicable) 2 valid I.D. (Photocopy Only) for Technical Requirements.
Audited Financial Statement and Bank Certification to substantiate cash balance for Financial Requirements.
Your application will now be processed and reviewed by our Franchise Center.
Contact Details
For further details in regards to Mrs. Fields franchise, feel free to contact with them through these contact details provided below.
Address: 2230 UPRC 1 Building, Don Chino Roces Ave. Makati City
Facebook: https://www.facebook.com/MrsFieldsPH/
Website: http://mrsfields.com.ph/
Landline: (02) 5013037
Mobile: 09175545308
Email address: franchise@mrsfields.com.ph
Posts that you might like: