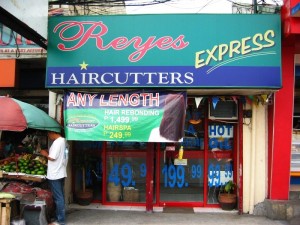 Reyes Hair Cutters Salon won Agora Award for "Outstanding Achievement in Entrepreneurship" in 2005, in the following year RHC has unlocked another achievement as the "Most Outstanding Filipino Franchise" by Franchise Association.
The salon has been remarkable to every Filipino due to its affordable service fees plus the prices in each hair and beauty treatments are also posted on the mirror of every store, open for viewing that would like to avail and pamper themselves.
Most of the franchisees of the salon are 31 to 50 years old and to make sure that every branch meets its standard goals, Reyes Hair Cutters supervise and assist them regularly.
Humble Beginnings
Reyes Hair Cutters Salon (RHC) is a family salon led by Celestino "Les" Reyes in 2001 with highly-trained personnel committed to provident excellent service that will cater middle income and low-income groups of all ages and gender. It aims to make each and every customer to look good and feel good without spending too much money on it.
In November 2005 much to your surprise, aside from 200 branches nationwide, RHC's first international branch was opened in London; they are now planning to open another outlet in Qatar and United States.
Being a down-to-earth family, they had conducted several outreach and livelihood program for battered wives, out-of-school youths, abuse victims to become their hair stylists and beauticians.
RHC's Uniqueness
Reyes Hair Cutters Salon is willing to adapt into changes and most importantly they value and appreciates each franchisee, client and staff as their business partners making their business the best home for every family member when it comes to hair and beauty purposes.

Qualifications for Franchisee:
Must be highly interested running a beauty business
Filipino citizen
Must have a good background in handling people and with experience in customer service and personal care business
He/She should be committed to the industry standards and willing to partner in RHC business.
Total Investment: 2.3-2.6 Million
Contract Terms: 6 years and it is renewable
Service and Marketing Fee: 5%
The package includes the following to give you a hassle-free grand opening once your applicant is successful:
Initial inventory for 1 month operation including equipment
Top-notch training program such as: hair coloring, hand/foot care and massage
Steady supply of the franchise salon to sustain the company's uniformity
Contact Details:
For those interested to franchise Reyes Hair Cutters Salon you may email Les Reyes at reyeshaircutters@yahoo.com or you may simply call them during office hours at these numbers: (02)9127359/9136250/9135111.