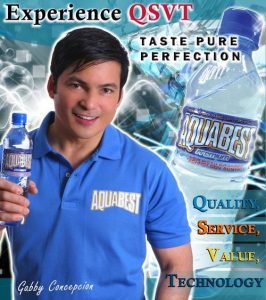 Clean drinking water is a necessity to live a decent life. That is why water refilling stations have been popping out like mushrooms in the metro because clean water is getting harder and harder to find.
With people lining up to get their containers filled with clean water, don't you think that a water refilling station is a great investment? Yes it is and thankfully, Aquabest is open for franchising.
The History of Aquabest
With early 500 branches nationwide, Aquabest is of of the most popular and most trusted water refilling stations in the Philippines. It is committed to excellence in business and taking care of franchisees, and is a proud member of PFA (Philippines Franchising Assosciation) and AFFI (Association fo Filipino Franchisers Incorporated).
Aquabest uses the most technologically advanced water treating systems, which restructures untreated water into better, cleaner water. Then, the product is treated to a 28-stage reverse osmosis filtration system to get rid of physical particles.
How to Apply for Aquabest Franchise?
Submit a letter of intent, together with a map sketch of your preferred business location. http://www.aquabest.com.ph/images/pdf/loi.pdf
After your application is accepted, you will need to attend a business orientation to be held at the Aquabest main office.
Pay the reservation fee for your preferred spot because many applicants will apply for the same spots.
Have your site looked at by the engineering and business development team for viability and financial feasibility.
If approved, you will be assisted on opening your store.
What are the Site Requirements?
No less than 28 meters, with provision for toilet and stocking room.
Preferably along the main road and is readily accessible for at least 150 households.
With a source of a reasonably cheap raw water. (Deep well is accepted.)
What are the Inclusions of the Franchise?
Water filtration machine
Use of trade name and logo
Business manual
Service support
Ready to Start Your Aquabest Water Filtration Business?
Contact Lyn Cordon at (02) 371-04878
Posts that you might like: