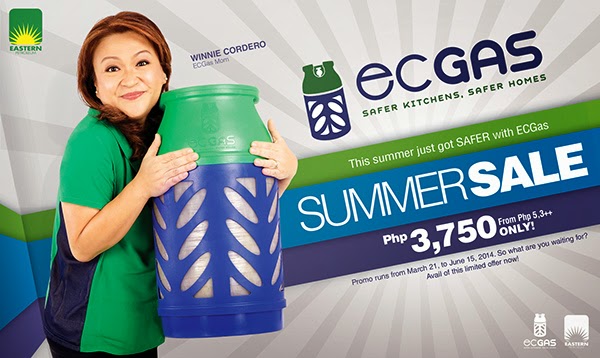 Safety comes first in the family.  We all know that there are plenty of household accidents that resulted to that catastrophic occurrence due to faulty gas tanks that have exploded or leaked.  Every household are fearful of this unfavorable accidents.  Prevention of having accidents to happen in the home due to gas tank problems is the aim of each family, so if there is a better and safer option for gas tanks that would be no other than the EC gas.
About EC Gas
EC Gas is a product of Eastern Petroleum.  Eastern Petroleum has been in the industry since 1996 with a vast retail network of 50 outlets all over the country.  Easter Petroleum is part of the top 500 Philippine Companies within five years of its incorporation and as of 2011, it reached a revenue of over 3.5 billion pesos.
What makes EC Gas different from the traditional LPG tank in the market?
EC Gas uses cylinder technology. Cylinders are manufactured with ISO Certification and is known for its high durability and robust design.  The custom built of the cylinders of Eastern Petroleum are made to withstand all weather conditions.  Cylinders are made in Norway.
EC Gas has and auto shut off feature that occurs if pressure exceeds 1kg per hour.
It also shuts off if hose gets detached or during a rupture.
Plastic liner and glass fiber does not corrode.
The level of the gas can be seen because of the translucent design.
How to franchise EC gas?
Fill out the franchise application form and send through email or snail mail.
Secure a letter of intent addressed to Eastern Petroleum Corporation.  Include your copies of two government issued IDs and Curriculum Vitae.
Franchise Seminar should be attended.
Completion of the following requirements should be done:
Site map with complete address
Business plan
Income tax return
Bank certifcates
Pre-approval of your application would be done based on your submitted documents.  Wait for a call or email from the Area Manager.
Meeting, interview and final approval of your franchise application.
Proposed site evaluation and approval.
Contract signing and payment
FRANCHISE DISTRIBUTOR:                           Ᵽ1,000,000.00
FRANCHISE OUTLET:                                       Ᵽ300,000.00
FRANCHISE NEIGHBOURHOOD OUTLET:                Ᵽ50,000.00
 Benefits of Availing EC Gas franchise:
Training is provided to equip the franchisee with operations, marketing skills, sales and product safety.
Pre-opening support is provided through distribution of materials to the area.
Post opening assistance is provided in every step of the ay until you succeed in your EC Gas franchise.
Contact Details:
HEAD OFFICE: (MAKATI)
Eastern Petroleum Corporation
7th Floor Cityland Pasong Tamo Tower,
2210 Don Chino Roces Avenue, Makati City
Telephone Number: (02) 8176443 / (02) 8174445 / (02) 8178000
Cellphone Number:  +639162450431
Viber account:  +639162450431
Email Address:  franchise@ecgas.org , inquiry@ecgas.org
Website: http://ecgas.com.ph