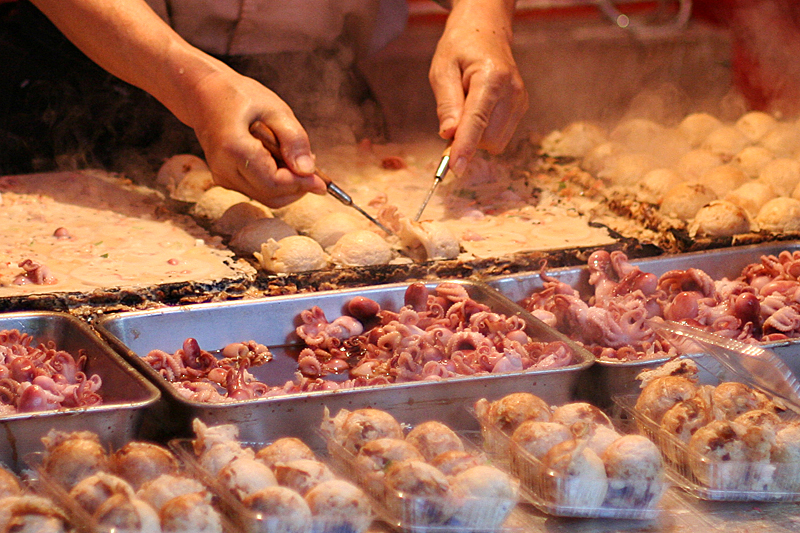 There are no denying on how the numerous compelling Anime series shaped the face of the television in the 90s and with this, the Japanese culture has been brought to many Asian countries and even reaching the West, but even though Anime is lying low right now, Japanese cuisine is here to stay in everyone's hearts. After all, who could resist these mouthwatering sushi, sashimi, and of course, takoyaki! A traditional Japanese cuisine, takoyaki has been and continue to be a huge hit to the Filipino people, and so selling the flavorsome ball-shaped snack is a good entry to the food market. Hence, franchising a takoyaki food car us definitely a good investment and it is also a relatively easy business to handle, so what are you waiting for? Scroll down below to find out what is the best takoyaki franchise for you!
TK Franchise
Probably one of the most famous takoyaki seller in the country right now, TK Franchise would be an ideal entry to the Japanese food industry since it has seen great growth and expansion around Metro Manila. You can see a TK Franchise in the busiest parts of the city, especially inside the malls, so business success rate is high and sustainable.
TK Takoyaki food cart is established in august of 1998 by Ms. Marites Villaflor and her family, in hopes of bringing takoyaki to the country, which is not yet famous at that time. Thus, they sort of become the pioneer of takoyaki food business in the Philippines and so also started selling other food snack such as siomai, calamares, and beefy yaki, and now, they are considered as one of the most stable business in the takoyaki market.

Franchise Information
You can get a five (5) year contract for the TK Takoyaki franchise, but don't worry because you can just renew it again afterwards. Check out their relocation policy as well so you would be blindsided later on.
You would not be alone in your business because they conduct free technical assessment twice a month and free supervision during your business operation. What is amazing is that the company does not require cash bonds, additional charges, and even royalties, so you can maximize your profit for yourself.
Online Franchise Management (OFM)
The company provides this innovative OFM which gives you a way to be more involved in your business and track your business growth online!
track business finance and accounting
automated stock monitor and analyses
automated delivery of supply and supply shortage alert
The franchise cost for TK Takoyaki is P185,000.00 but the cost is higher for the Yakisoba Model, which needs P255,000.00.
Inclusions:
P6,000 worth of initial supply
Equipment necessary
Permits for the business
Grand Opening day celebrations
Advertisements
Free crew training
Managerial orientation
Hands on training for 6 days
Contact Details
Office Address: TK Takoyaki
Villacorp Business Philippines, Inc.
792 Alegerucas Street, Sampaloc, Manila
Telephone Number: (02) 711-0679; 546-8567
Mobile Numbers: 0919-983-9633; 0922-8868054
E-mail: tk_takoyaki@yahoo.com
Facebook: https://www.facebook/pages/TK-TAKOYAKI
Website: www.tktakoyaki.com
E & E's Takuyaki Food Cart
Well, what is even better than a thriving city business is a worldwide-known business and E & E's Takuyaki is a Japanese-based company, so you are assured that the takoyaki you would be selling in the country is only the best and authentic Japanese cuisine! The quality also ensures that the people would come back for more and so increases the business rate success and gives an opening for growth!
You can franchise by sending a letter of intent to the company's e-mail address or via courier. The evaluation would then ensue and a meeting with the E&E's Takuyaki Management would follow.
Franchise Information
There is P280,000 franchise fee and this may be more expensive than others but the inclusions are all worth it:
Cart with:
Menu Signage
2 Hotplates
Stove
Lantern
Trade name and proprietary marks
Staff training program
Procurement program
Opening Assistance
Business System
Operations manual on loan
Development and Research
The contract is valid for five (5) years and is renewable. The required minimum space location six (6) square meters and must be in a crowded and visible area. 5% of gross sale must be paid as royalty.
Contact Details
Website: www.rkfranchise.com/wefranchise/e&etakuyaki//index.php
Facebook Page: www.facebook.com/pages/E-Es-Takuyaki/167448236683170
Email: rk@rkfranchise.com, rkfranchiseconsultancy@yahoo.com
Phone nos.: (02)912-2946, (02)912-2973, (02)955-0734
Fax no.: (02)911-1966, (02)912-2973Phone nos.: (032)253-5010, (032)254-0473
Address: RK Franchise Consultancy Inc., G/F Minnesota Mansion, 267 Ermin Garcia St., Cubao, Quezon City, Philippines
Website: http://www.takuyaki.com/
Eh 'Di Balls! Food Cart Franchise
You can deduce from the name that the founder and owner of this takoyaki seller is a Filipino and in support of Filipino business, Eh 'Di Balls! Food Cart Franchise is a good investment and with the rate of their growth and success rate, it would also be an amazing business move for you. This is also the cheapest takoyaki franchise right now!
Franchise Information
It has a five (5) year contract and cost 175,000 to franchise, and you would be able to avail all of these:
use of trade name and proprietary marks
site approval
training for franchisee and sales staff
procurement program
food cart including:
2 takoyaki pans
2 single stove
1 pot
necessary utensils
3 sets of uniforms
marketing collaterals
opening assistance
operations manual
research and development
Contact Details
Manila Branch:
Email: rk@rkfranchise.com, rkfranchiseconsultancy@yahoo.com
Phone nos.: (02)912-2946, (02)912-2973, (02)955-0734
Fax no.: (02)911-1966, (02)912-2973
Cebu Branch:
Email: rkcebu@gmail.com
Phone nos.: (032)253-5010, (032)254-0473
Address: RK Franchise Consultancy Inc., G/F Minnesota Mansion, 267 Ermin Garcia St., Cubao, Quezon City, Philippines
Chiggy's Kessaku
Chiggy's Kessaku is a contemporary of TK Takoyaki and is also one of the pioneer of serving authentic and also affordable Japanese food in the country and you can see their branches in the key parts of various cities in the Philippines. They recorded an impressive success and growth rate and is currently up for more expansion especially in the provinces.
Franchise Information
It cost P250,000 for the cart package and P220,000 for the outlet package, with five (5) year-contract, and can be easily renewed. The require space if sixty (60) square meters and has 5% gross sale royalty.
Use of Trademarks
Site Approval
Training for Franchisee and Staff
Procurement Program
Opening Assistance
Operations Manual on loan
Research and Development
Cart on Loan ( Cart Package )
2 Hot Plates
Contact Details
Facebook: www.facebook.com/pages/Chiggys-Kessaku/267971480043539
Email: chito.bogayong@gmail.com
Phone Nos.: (082)295-6103
Mobile Nos.: 0922-818-1261, 0917-703-0714
Address: 213 Molave St. Poly Subd., Matina, Davao City, Philippines
Tamayaki Franchise
This is considered as the fastest growing takoyaki business in the country because of their rapid expansion to 200 branches nationwide, considering that the Uy sisters only founded the country last 2013. The business idea started when they came back from abroad and realized what authentic takoyaki really taste like, so they decided to bring it to the Filipino people. It seems that the Filipino are very much satisfied and so the business success rate is amazingly high.
Franchise Information
The franchise fee is about P300,000 but thetotal investment is ranging from P800,000 to P1,000,000 and the contract is good for five(5) years.
License to use trademark, name, and logo
Training
opening support
advertising and marketing support
recruitment and site selection assistance
two weeks inventory
leasehold improvement
Contact Details
Address: 453 P. Guevarra St, San Juan, Metro Manila
Phone: (02) 705 1856
Facebook: https://www.facebook.com/TamayakiPH/