If you are a commuter stuck while waiting for the line to get the ticket to the train, you would be fed up while waiting and opt to have a break
first. But fast food is just overrated and it never really satisfies one's hunger. Rice meal is really the sought after food especially on a tiring and energy draining day. But not all food carts serve rice meals and most of them do serve only patties or egg.

Good thing there is Burp Rice Meal food cart. With this food cart concept, customers can have a decent rice meal for a fraction of a cost in dining in a fast food or restaurant. You can get to eat a complete meal made up of meat, rice and vegetable with free soup and drink. That is really having value for your money's worth! Eating a decent meal on the street or in a train station will be a surprise but luckily there is this food cart concept that would bring a smile on the customers' faces.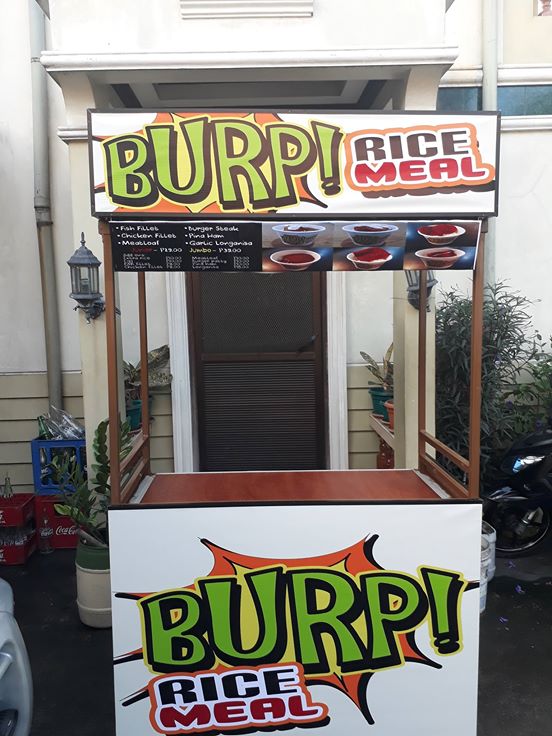 It's like having a home cooked meal even while you are away from home. Tiredness, boredom and even frustration from a long day at work would be lessen or even disappear after having a delectable meal from Burp Rice Meal!
This is P40,000.00 to franchise and inclusions are:
Use of Name and Logo
Free training of crew
Collapsible Food Cart
1 Double Burner
1 Rice Cooker
1 Non stick fryer
3 sauce dispenser
1 Food tong
1 Spatula
1 Crew uniform ( shirt)
1,000 worth Sample products
Franchisee training
Retailership activation of Loading Business. (own sim-1sim load all, activation of SIM card as retailer SIM)
Remember, our food cart franchises are three years to operate, with no royalties. Furthermore, these are renewable and we deliver anywhere in the Metro Manila for free, provided you hit the minimum amount every order!
Did you know that you can add Burp Rice Meal to a 2-in-1 and 3-in-1 food cart? You can maximize the profit and save money on franchising!
Interested in franchising? Call or text me, Mr. Tristan @ 09156385699,smart 09499972044   You can also comment through the form below and I will answer through email (with in 24 hours).