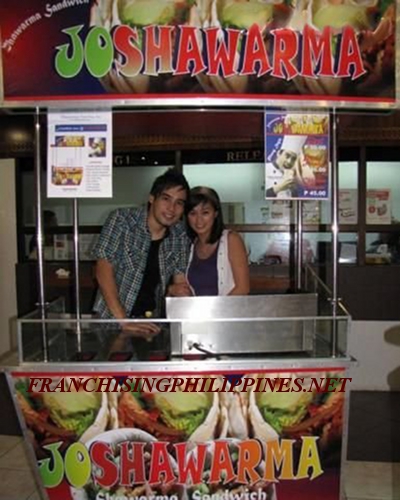 Joshawarma Franchise – P30,888.00
Shawarma — who would have thought that a sandwich made of raw veggies, flat bread and some meat would be such a hit? This is the food concept that made Khaleb, Habba Babba nd others successful and you can emulate that success too! With Joshawarma, of course!
Joshawarma costs P30,888.00 to franchise and the package includes:
~x1 Cart with lighted signage (1.50m x .60m x7ft)
~x1 Industrial electric griddle
~x2 sauce dispenser
~x4 built in condiments
~x1 food tong
~x1 Joshua Standee
~Crew Training
~Franchisee Seminar
~P400.00 worth of Food Sample
All concepts are inclusive of accident insurance for 1 year worth P50,000.00 and e-load dealership. Crew training and seminars are free and unlimited.
You cannot combine Joshawarma into a 2-in-1 food cart package or 3-in-1 food cart package.
This package is inclusive of free and unlimited trainings and seminars for you and your crew, an accident insurance for a year for P50,000.00 covered by Sunlife and free E-Loading business powered by Loadcentral.
Interested in franchising? Contact Rothman at (02)5093706 / 09154931815 or use the form below. Allow me 24 hours to answer through your email if you choose to comment below.