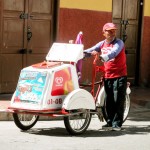 Being an employee is good, but being an entrepreneur is better.
Let's amend to the fact that an ordinary street vendor earns twice as much as a regular employee does. I once interviewed a typical street vendor, he declared that he's earning minimum of one thousand pesos a day selling barbecue, isaw, quail eggs etc.
Continue reading… Small Businesses in the Philippines: Is small really the new big?