Siomai could be one of the best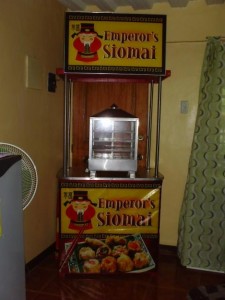 cuisine the Chinese had given us. These small but super tasty treat has been a favourite merienda of both the young and the old, and is consumed as a snack in the morning, afternoon, even at midnight.
With this craze comes the boom of siomai franchise business in the Philippines. Much like burger franchises, these businesses sprout in almost any corner, as long as there are hungry people.
However, the problem arises from the hefty price tag that comes with siomai kiosk franchises. Micro franchises of siomai in the Philippines usually cost around a hundred and fifty thousand to three hundred thousand pesos, making this kind of businesses up for grabs only for those who have that sum of money.
But now, Filtrepreneur Franchise Inc. offers siomai franchise for only P26,888.00, making the super popular mini kiosk franchise business affordable for the ordinary Filipino.
For those who have more guts than money, an Emperor's Siomai Franchise includes a small food cart, complete utensils and equipment to operate the business properly, a set of crew uniform and starter products. How's that for a franchise business with a capital as small as a high end cellphone?
If you are interested in operating a Franchise of Emperor's Siomai, you can check the advertisement for Filtrepreneur Franchise Inc. found in this website or you can ask our resident franchising expert for details!
Posts that you might like: