Rice is the staple food of the Philippines. Whenever there is a tasty savory dish to be eaten, you can expect that a Pinoy would ask for some rice. This is the reason why rice meals are a great business to start. Lots of Filipinos do not have the time to cook at home, and a nice hearty rice meal is simple needed every lunch and dinner.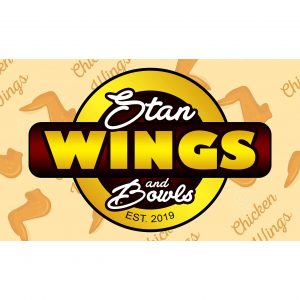 Chicken wings on the other hand are starting to make waves in the restaurant industry. The emergence of wings-all-you-can promos prove that Pinoys can never get enough fried chicken wings. Aside from the well-loved buffalo wings, we also love salted-egg, kare-kare, asian, korean soy, and cheesy wings favors.
Combine the two elements together and you have Stan Wings and Bowls! This new concept from TCFranchising will sure be a hit among young and old people.
Stan Wings and Bowls Food Cart  Franchise is P40,000.00
Inclusions are:
Food Cart (this kiosk measures 4 x 2 x 6 feet)
Advertising Materials like fliers, banners, standees. Tarpaulins, stands are also included!
Cooking equipment and utensils
Crew uniform – this is important because we want your staff to represent the brand in the cleanest and proudest way possible.
Crew training – this can be taken infinitely, just check the schedule!
P1,000.00 worth of product sampler – you can use this any way you want: you can have these as taste samplers or add these into your inventory. Your choice!
Operation seminar – this is a training for you as a business owner
Notarized contract
Ready to Start a Stan Wings and Bowls Food Cart Franchise?
Contact Tristan at 0915.6385699
Alternatively, you can shoot an email through the form below and we will get back at you within one or two business days!