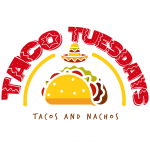 The Mexicans love taco and so does the Pinoys. Combining savory meat, veggies and sauces in a hard shell is one of the most gastronomically attractive things ever. Messy to eat but so so satisfying! Tacos fuse well with Pinoy foods too!
From the humble streets of Mexico, Taco Bell introduced the delicious street food to the Philippines. Now, Pinoys crave tacos every now and then.
Nachos, the cousin of tacos is  much more familiar. whenever there is inuman and parties, you are sure nachos are there! Videooke sessions also call for these meaty chips to be munched on.
TC Franchising offers nachos and tacos in the form of a food cart! Taco Tuesdays is sure going to be a hit on places where people drink and be merry, as well as near schools and workplaces!
Taco Tuesdays Food Cart  Franchise is P35,000.00
Inclusions are:
Food Cart (this kiosk measures 4 x 2 x 6 feet)
Advertising Materials like fliers, banners, standees. Tarpaulins, stands are also included!
Cooking equipment and utensils
Crew uniform – this is important because we want your staff to represent the brand in the cleanest and proudest way possible.
Crew training – this can be taken infinitely, just check the schedule!
P1,000.00 worth of product sampler – you can use this any way you want: you can have these as taste samplers or add these into your inventory. Your choice!
Operation seminar – this is a training for you as a business owner
Notarized contract
Ready to Start a Taco Tuesdays Food Cart Franchise?
Contact Tristan at 0915.6385699
Alternatively, you can shoot an email through the form below and we will get back at you within one or two business days!
Posts that you might like: