Shawarma is one of the most loved food cart meryenda by Filipinos of all time. This beautifully crafted sandwich of warm, toasted pita bread, meat and vegetables always captured the taste buds and stomachs of Pinoys. This is evident in the popularity of brands like Turks, Habba Babba and Shawarma Shack franchises, which are always bursting with customers waiting in line to get a piece and bite into the savory, heavenly goodness of this Middle Eastern cuisine.
Starting a shawarma business is a sure fire way to getting in the trend (which  never seems to die) and start raking in customers. The problem is most brands offer hundreds of thousands in franchise fees!
The solution: Greeks Shawarma Ave. offers a low cost of P65,000.00 franchise fees. We will take care of everything you need to start a shawarma franchise business of you own!
Greeks Shawarma Ave. Food Cart Franchise Fee is P65,000.00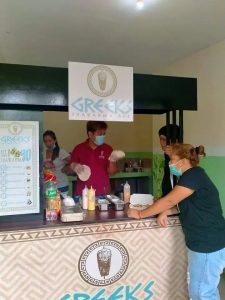 Inclusions are:
Food Cart (this kiosk measures 5 x 2 x 6 feet)
Advertising Materials like fliers, banners, standees. Tarpaulins, stands are also included!
Cooking equipment and utensils
Crew uniform – this is important because we want your staff to represent the brand in the cleanest and proudest way possible.
Crew training – this can be taken infinitely, just check the schedule!
P1,000.00 worth of product sampler – you can use this any way you want: you can have these as taste samplers or add these into your inventory. Your choice!
Operation seminar – this is a training for you as a business owner
Notarized contract
Ready to Start a Greeks Shawarma Ave. Franchise?
Contact Tristan at 0915.6385699
Alternatively, you can shoot an email through the form below and we will get back at you within one or two business days!