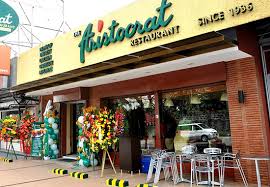 The Aristocrat Restaurant Franchise is looking for business partners as they engage in an expansion program for the continuity of a legacy that is simply Aristocrat. The company has opened its doors to qualified entrepreneurs within Greater Manila Area to be a part of a name that is known for its scrumptious recipes for decades.
Company Background
Aristocrat Restaurant was started by a hardworking and simple couple in the 1930's. The first kiosk was named Lapu Lapu after the first Filipino hero. It was located across a school and served a selection of food that the students found so delicious. They served banana fritters (turon), dinuguan at puto,pancit luglug, arrozcaldo, lumpiang ubod, among others. What was once a small restaurant business has become one of the Philippines' most popular eating place known for its delectable menu and quality service.

Types of Franchise Available
individual
multi-store
Franchise Package Cost
Franchise Fee – P2,000,000.00 ( VAT exclusive)
Total investment ranges from P10,000,000.00 up to P20,000,000.00 depending on:
Type of store – mall, strip mall, free standing
Size of store
5% of gross sales from operating the business for continuous service or "royalty" fee.
1% of gross sales per month for local advertising
2% of gross sales for corporate advertising and development fund

Franchise Package Inclusions
Intensive and comprehensive training program for the management, franchisee, and staff
A copy of the Operations Manual
Complete business opening assistance
Continued use of the Aristocrat restaurant name and trademarks
Access to operating systems, marketing assistance, ongoing business development, and other benefits that come with being an Aristocrat franchisee.

Other Franchise Package Provisions
The Franchisee will be in charge of hiring his own staff with guidance and assistance from The Aristocrat Franchise Corporation on personnel qualifications.
The Aristocrat Franchise Corporation will provide assistance in the construction and architectural design of the store through its accredited contractors. Should the Franchisee choose to hire his own architect or contractor, they have to go through the accreditation process before they become authorized to build an Aristocrat Restaurant.
Periodic visits will be conducted by a franchisor representative who will provide regular operations guidance and quality control.
The franchise agreement is good for five (5) years, and is renewable twice for a total of fifteen (15) years.
Payback Period
Payback period ideally is 2.8 to 3.6 years, of course depending on total sales and store locations.

Site selection
Space must be at least 250 square meters for mall stores, 250-300 square meters for strip malls, and 300-500 square meters for free standing stores with provision for parking space.
Site must cater to the Aristocrat market.
Site must be located in high traffic, commercial and residential areas.
Franchise application procedure
Send the following documents to The Aristocrat Franchise Corporation
Letter of Intent
Completed Franchise Evaluation Form
Location or vicinity map of proposed site
If the applicant has potential, he/she will be invited for an interview.
The proposed site will be evaluated.
Follow up meetings to discuss the agreement.
If all the requirements were met, franchise will be awarded.

Contact Details
If you're interested in getting the Aristocrat Franchise, you may reach them through their following contact details:
Website: www.aristocrat.com.ph
Email: franchising@aristocrat.com.ph, rayreyes2009@gmail.com, pazcuales@yahoo.com
Phone No.: (02)524-7671 to 80 loc. 247
Fax No.: (02)523-0136
Address: The Aristocrat Franchise Corporation, 432 San Andres St. cor. Roxas Blvd., Malate, Manila, Philippines
Posts that you might like: