Master Siomai Franchise: Siomai king
When you think of siomai the first thing that will cross your mind is Master Siomai. The name itself denotes that it is one of the most popular Chinese snack product which is a favorite of the Filipinos. Master Siomai though is the first and original Japanese siomai that became very popular in the whole country. Being the trend setter in the market it has shown significant growth in just a matter of four years. It only started as a food cart franchising business in 2007. And their first and original concept mad their name big in the siomai food cart franchising business.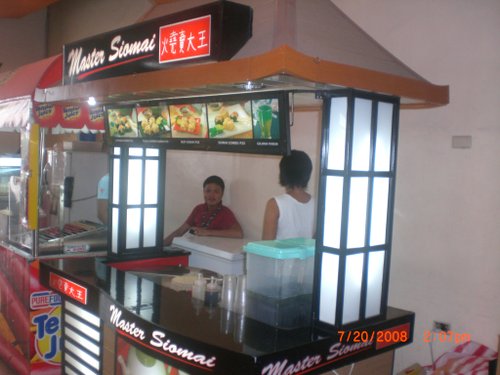 Here is a brief overview of the company and how it started.
Masterrific foods was established in 1999 as a supplier of processed meat products such as ham, bacon, burger patties and their special siomai to different hotels, restaurants and market places all over Metro Manila and out of town as well.
Because of the high demands they decided to put up another business that offers siomai as its specialty. The name Master Siomai was born. With a Japanese inspired food cart, they sell siomai products that are never the same as the common siomai we see everywhere. Master Siomai is the first in the market. Japanese pork siomai wrapped in special Japanese seaweed, topped with crabsticks. They also have beef and shrimp siomai that look and taste as good as their pork siomai, and a refreshing Gulaman Pandan Drink, that makes Master Siomai a one stop food cart.
The company wants to position itself in markets A, B, C, and D. Reason why their Japanese inspired food carts are manned with well-trained service staffs and who give every customer the service they want to get.
Be one of the successful franchisees. Here are some of franchise details.
Steps in Franchising Master Siomai
1. You must look for your own location.
If the location is within the mall you must have an award notice or lease proposal before we evaluate. If the location is in a busy street, terminal, school or campus, you must have a verbal or written agreement with the leaser that the location will be leased by you before we evaluate.
2. Call their office for the schedule of evaluation. (02) 351-1854 or (02) 282-4941 or (02) 355-5323.
3. Upon approval of site, 50% deposit to begin the construction of the cart.
4. Business operation meeting.
5. Orientation and training of your crew.
6. Franchise Agreement signing.
7. Full Payment upon delivery of the food cart.
Complete Franchise Business Package is Php280, 000.00
Includes the following:
1 unit Japanese Inspired food cart
1 unit 5 cu feet chest freezer
1 Siomai stainless siomai steamer
1 Plastic juice container
Complete Kitchen wares, plastic wares and others
Juice ladle, kitchen knife, chopping board, 2pc sauce bottles, food tong, tissue dispenser,
Styro box, Calculator, Stainless tray
Initial food and paper products (worth P7, 000)
Food Products (All siomai variants: Japanese, Beef, Pork and Shrimp Siomai)
Special siomai sauce, Chili garlic sauce, Calamansi, Gulaman syrup, Gulaman powder, Paper Products, Styro tray (dine and take out), Sando bags, Tissue, Take out sauce plastic, Toothpick, Plastic gloves, Plastic cups 12 oz.
3  Crew Uniforms (4pcs Master Siomai T-shirt, 2pcs Master Siomai sun visor)
4  Cleaning Supplies (1 plastic trash can, 1 plastic broom, 1 dust fan, Liquid soap, 2pcs towels,
Mop)
5  Chair
Franchise Term: 3 yrs, renewable for another 3 yrs at 50% of Franchise Fee at the time of renewal.
No Royalty Fee/ No Hidden Charges
For more Information Contact:
Master Siomai Inc.
Tel: (02) 351-1854, (02) 355-5323
Tele Fax: (02) 282-4941
Email: master_siomai@yahoo.com
Web: www.mastersiomai.com