One of the hottest, biggest and most profitable fad in the food business right now is the fried noodles franchise.
In this type of food, semi-wet noodles are fried together with mongo sprouts, topped with siomai and a sauce mix. The catch: the customers are given a wide range of sauce types and they are given the freedom to mix their own concoction. That's where it is known – the freedom, the experimentation, the fun.
One of the biggest brands of fried noodle franchises is the Hongkong Fried Noodles. It is well known and well loved. Your nearest local mall might have it.
The problem is the fact that a three year contract for a noodle franchise is around Php150,000.00. Not so affordable if you ask the average Juan de la Cruz.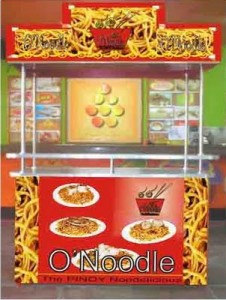 That's in the past. Now, Filtrepreneur Franchise Inc. lets people take advantage of their O'Noodle Franchise, which is of the same concept – fried noodles.
With just a franchise fee of Php26,888.00, the entrepreneurial Pinoy, who has more guts than money to start their own fried noodles franchise. The franchise package is with complete equipment, crew uniform, starter products, insurance and e-load dealership. FFI also trains their franchisee and their crew for free.
If you are interested to on a fried noodle haus, then you might want to check O'Noodle out. Ask this website's resident franchising expert for details
Posts that you might like: