Scramble franchise. Who would have thought that this sweet street food would become such a success in franchising?
Scramble is this sweet and creamy addictive snack which Filipinos have grown to love. Remember when manong used to push his rolling store on the streets and ring his kuliling? We used to stop playing patintero or taguan and run towards him and buy some of this awesome concoction.
The super nostalgically sweet, sweet street food made with artificially colored crushed ice, delicious powdered milk and sugar, topped with chocolate or strawberry syrup and rice crispies is now coming back from being forgotten, now as a trending food kiosk concept.
The scramble franchise is now making waves here in the Philippines and Filtrepreneur Franchise is not letting this opportunity to serve you go unnoticed.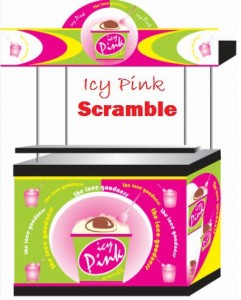 Introducing Icy Pink Scramble: Filtrepreneur's newest addition to its food cart concepts. For only Php38,888.00, you can now avail of the best scramble franchise in the Philippines.
The scramble franchise includes an electric ice crusher, complete utensils, like jars and sprinkle containers and starter products to boot.
UPDATE:
These are the details:
The ice scramble franchise costs P42,888.00. It includes:
1 unit cart (measures 4.5ft x 2 ft x 6 ft)
1 unit electric ice crusher
1 unit mixer
1 unit heavy duty cooler
3 units jars
1 set spoon and cups
500 pesos worth of starter products.
Filtrepreneur Franchise does not charge royalty. And the contract lasts for three years, after which, you would only pay 5,000.00 for the notary, retraining and changing of tarpaulin signs. And then you can continue the operation for another three years.
The first step to franchising the business is to meet up with Rothman, this blog's resident franchise expert.
Interested in Filtrep's Ice Scramble franchise? Want a schedule for a meeting at the showroom at Greenhills, San Juan, Metro Manila? Ask our resident franchising expert how!
Posts that you might like: