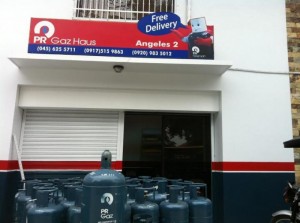 We live to work or we work to live? What would you choose? Of course, most of us would want to claim that we work to live but working is not the only means to survive. Most of us are dreaming of becoming their own boss and you can only gain that by having your own business.   Setting up a new business venture is already a painstaking task to begin with. Luckily, there are options to get through the business wagon on an easier and more accessible way and that is through franchising. Getting your very own franchise is acquiring an identified brand as your own and hopping on its fame because it already has patrons and loyal customers. Among the concepts in the franchising industry, we would highly recommend PR Gaz because as we know it, LPG is one of the essential things that a family needs. From cooking meals to heating water for bathing and more, LPG has been widely used in the household. If you are looking forward to getting your very own PR Gaz Haus franchise then check out what we have researched below for you.
Company Background
PR Gaz has been in the trading industry since 1990. Back then, it was a wholesaler of liquefied or melted petroleum gas and one of its patrons was Caltex LPG. In 2003, Nelson Par came up with a revolutionary idea that paved the way to PR Gaz popularity in the franchising industry. He set up the very first convenience type of store that only sells LPG and named it PR Gaz Haus. Since then, it has grown branches not only in Luzon but turned nationwide. To add more variety and uniqueness in their line of business, it created alliances along with unique products makers to market numerous cooking utensils as well as accessories. This step made PR Gaz outlets a one stop shop for the common household. PR Gaz is known to be the first to franchise LPG in the country.
This amazing store principle provided LPG items to consumers in a lot more easily offered approach, together with this kind of customer care innovations as buying LPG via text or call with cost-free shipping and delivery. It even comes with free stove cleaning.
PR Gaz products and services have a huge customer base across Luzon. Their stores are located throughout key parts of Luzon such as in Cavite, Laguna, Bulacan, Pampanga, Tarlac, Pangasinan, Bataan, Zambales, La Union, Batangas, as well as key urban centers throughout Metro Manila. It even got additionally popped branches throughout Baguio and even in the Bicol Area.
Types of PR Gaz franchise
The PR Gaz Franchise has a total investment cost ranging from Php1, 200,000 to Php1, 500,000. This franchise package is inclusive of use of trade name or logo, initial stocks or inventory, staff training, delivery tricycle, a retail software and customized store management.
There are many investment types or options in PR Gaz. The franchisee could opt for a system franchise or a multi-unit franchise.   Please see the details below to help you choose the type of PR Gaz franchise just for you.
Unit Franchise
A unit franchise is a single outlet or store that you would set up from scratch.
Conversion type of franchise
This type of franchise is called Conversion type or ConveSure. From the name, it would meant getting a company owned outlet for franchise. In this way, their patrons in that particular area would be yours to keep.
Multi-Unit type of franchise
The multi-unit type of franchise is a mixture of the two above mentioned type of PR Gaz franchise. This option is available for existing and new franchisee ho want to maximize income by having two or more branches in a specific region or area.
Exclusivity of any city or province-wide territory is provided to a new franchisee who'll open a new pre-determined outlets as scheduled. Extra investment is required such as funds for warehouse and for a delivery pickup truck.
Common Franchisees FAQ
Q: What is the required store size for me to operate?
A: An outlet should not be less than 25 to 40 sqm.
Q: How long before I get my ROI?
A: The length of acquiring the ROI varies but the estimated payback period is around twenty four to thirty months.
Q: How much is the royalty fee for continuing support services?
A: The royalty fee is equivalent to one percent of the gross sales.
Q: How long is the franchise agreement?
A: The franchise agreement or contract is good for five years and is renewable.
Q: Who will train my staff?
A: Upon successfully signing the franchise agreement, you are entitled for a free training of your staff that will run for five days which will be held at the Head Office and another two weeks training that will be held at the nearest PR Gaz Haus in your area. The training will cover the orientation, procedure, maintenance, product knowledge, customer service and more.
Q: What form of continuing guidance will I receive?
A: A franchise representative will visit your PR Gaz Haus from time to time to render you guidance and answer all the queries that you have. The franchise representative will also serve as your quality control. The company also provides refresher training programs as needed. You will also be receiving an operations manual to guide you in running your store.
What are the steps in the application process?
The franchise applicant needs to send a letter of intent through email or snail mail.
You need to submit the target locations sketch map along with a pledge that you will oversee the store.
Furnish the pre-qualification form.
Set up an appointment for your initial personal interview.
Upon successfully finishing the steps above and completion of the necessary documents for legalities, you may begin with your venture in starting your very own PR Gaz Haus.
Contact Details
For more information about PR Gaz franchising, you may reach them through the following contact details:
Mobile: 0917 817 7429
Website: www.prgaz.com.ph
Posts that you might like: