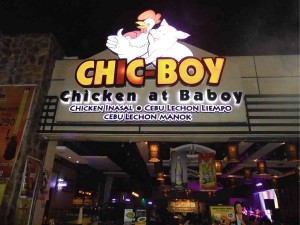 Chic-Boy, with over 100 branches nationwide is still on an expansion program and is looking for interested and qualified franchisees. The company intends to share the unique Filipino cuisine to everyone and because the restaurant business is such a hit in the country, why not be a part of this fast-growing company?

Company Background
Chic-Boy first opened on May 5, 2010, in Makati City. The company caters to the Filipino's love for pork and chicken dishes. Filipinos love to eat and Chic-Boy has continually provided tasty meals for its hungry customers along with excellent service. Today, Chic-Boy remains to be a great place to celebrate occasions and as a hang out place for friends and students.
Services Offered
Chic-Boy serves Cebu lechon baboy, Cebu lechon manok, their flagship dishes. The restaurant also serves other delectable pork and chicken dishes like the chicken and pork sisig, inihaw na liempo, veggie chopsuey, and Filipino snacks such as halo-halo and sapin-sapin. The restaurant also offers Chibog Busog which is a meal with unlimited rice.
Franchise Cost
Franchise Fee- P950,000.00
Royalty Fee – 5% of the total gross sales
Advertising Fee – 2% of the total gross sales
Total investment package – P5 -6 million pesos depending on the store size
Projected return of investment- 2-2.5 years
Terms – 7 years

Franchise Package Inclusions
Use of Chic-Boy trademark
Site feasibility study
Assistance on the design and construction of site
Operations manual
Initial information
Technology installation
Procurement program
Marketing assistance
A dry-run ore-opening assistance
Grand opening assistance
Post opening assistance
Continuing research and development of Chic-boy product line
On-site assistance if requested
Personnel and management training program
Requirements:
The franchisee should have the following qualities:
Financial capability
Reliability
Leadership skills
Fair judgment
Good learner
Hard worker
Good communication skills
Good at networking
Knows show to delegate
Humility
Franchise Application Procedure
Prepare the necessary requirements
Letter of Intent
Resume with 2 x 2 picture
Vicinity map and address of proposed location
Submit these documents to Pier One Holdings Corporation Head Office or email them to @chic-boy.com.ph
The company will respond by sending a copy of a franchise presentation and an application form. The application from is also available on their website and you can download it from there
Chic-boy will review your application and assess the proposed site
Chic-boy will contact the franchisee applicant to announce approval or denial.
Once approved, Chic-boy will send an approval letter along with a draft of the franchise agreement
The franchisee will be interviewed by a panel of Chic-Boy officials.
Credit investigation will be conducted.
Follow-up meetings between the company and the aspiring franchisee to discuss details.
Final site inspection will be done by a professional.
Summarizing and discussion of feasibility study.
Contract signing
Contact Details
For more information regarding the Chic-boy franchise, contact them through any contact details shown below:
Website: www.chic-boy.com.ph
Email: franchise@chic-boy.com.ph, info@chic-boy.com.ph, cat@chic-boy.com.ph
Facebook Page: www.facebook.com/chicboyph
Phone Nos.: (02)658-3992, (02)658-4564, (02)809-3374
Fax No.: (02)656-3992 Loc. 102
Address: 1402 Centerpoint Building, Julia Vargas Avenue corner Garnet Road, Ortigas Business Center, Pasig City 1600, Philippines​
Posts that you might like: