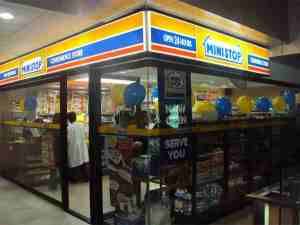 Ministop has been the best friend of the yuppies who work at the graveyard shift. CSR's, nurses, doctors and the like have enjoyed this convenience store's great products, especially the rice meals, stuffed bread and pasties and the cold treats. Ministop is open 24/7 and that is their advantage: when every other fast food chains are closed, Ministop caters to that small group of hungry people needing food.
Aside from the convenience food, Ministop also offers several non-food items that many people need: moist towelletes, prepaid load, school supplies, toiletries.
Good thing about Ministop is that it is for franchising! Read on!
About Ministop
Ministop started roughly 15 years ago, convenience stores started breaking out into the market, nobody rivalled 7-Eleven, an American chain of convenience stores, and Ministop was known for offering quality food items that can be eaten at the moment they are bought. That is how Ministop became popular.
Ministop started in Japan, Ministop Co, Ltd, a group of stores selling a wide choices of ready-to-eat food products.
Ministop Philippines always keep innovating read-to-eat food items that will appeal to the Pinoy palate and pocket.
Why You Should Franchise Ministop?
Ministop has a great brand name and recall, and is now everywhere. When the term "convenience store" is heard, Ministop is one of the two brands that come to mind.
Ministop has fast services; using PC's to expedite selling process.
Ministop is open 24 hours
Ministop offers a wide range of services to its franchisees, including promotional assistance, marketing activities, trainings and labor aid.
How to Franchise: Ministop Franchise Fee and Other Operational Needs
The franchise fee for a Ministop store is Php 1M to 3M, depending on the type of package you want. In addition to that, Ministop will require you to have at least 100sq floor space, preferably near malls, offices, condos, transport areas and hospitals.
How to Franchise: The Process
1. A franchise Presentation will be conducted by a Ministop staff.
2. Then, the franchise manager will conduct an interview with the aspiring franchisee.
3. If the franchisee passes the interview, the proposed site will be visited and inspected. A feasibility study will also be needed in this process, so prepare one.
4. After inspection and the place is potentially profitable, a letter of intent will be sumitted.
5. Signing of franchise agreement contract. The contract period is for 10 years.
6. Pay the franchise fee.
7. Attend the franchisee training seminar.
8. Submit legal documents such as business permits, LTO and other pertinent documents.
9. Operate your Ministop franchise business!
Are You Ready to Start your Ministop Business? Here are the Contact Details!
To know more details on how to start your very own Ministop franchise business, or if you have any inquires or suggestions, your can contact the Ministop team though the following :
Address: 401 F. Legaspi St., Maybunga, Pasig City, Philippines
Phone Nos.: (02)280-5763, (02)640-2817, (02)637-9956
Telefax No.: (02)642-8765
Fax No.: (02)640-2819
Mobile Nos.: 0922-878-0629, 0922-537-7120
Email: business@ministop.com.ph, franchising@ministop.com.ph, info@ministop.com.ph
Website: www.ministop.com.ph
Posts that you might like: