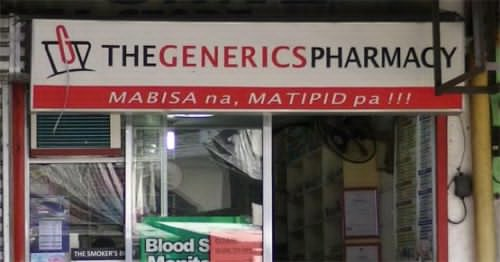 Not everyone has the enough money to have a health check-up in a private clinic, avail of a private physician's services, let alone afford the rising prices of branded medicines. The saying, "bawal magkasakit" has started to become the mantra of many people, even in the middle class citizens.
With the rising prices of branded medication, generic medicines have been the rising solution to the inflated prices. Generic medicines are cheap but effective and many people have started to buy from generic medicine stores.
If you want to start a generics medicines store, you can start a franchise of The Generic Pharmacy. It is popular and people know they can rely on this brand of drugstore.
About The Generics Pharmacy
The Generics Pharmacy started in the year 2007, where TGP opened its first branch in Pasay City. The Generics Pharmacy then branched out in the nearby areas, as branded medicines have started to become really expensive at that time and business is starting to get good. In the same year, twenty more branches in Metro manila were opened, and by the end of 2012, they have 1,480 branches all over the Philippines, becoming a big brand in the pharmacy market, creating brand recognition as the "murang gamot" store for Pinoy and rivalling the biggest pharmacy store chains in the Philippines.
How to Franchise TGP: The Franchise Fee, Package and Terms
The franchise fee for a The Generics Pharmacy Franchise is P600k to 800k. This includes the following to run the business:
Site evaluation
Trademark, logo and brand name usage
Opening support
Store setup and movement support
Operations manual
Trainings
Uniforms
Marketing strategies
Advertising, promotions and customer acquisition aids
General check of outlet
Open-line correspondence with the main office
Advancing business consulting
Training and refreshers on new business strategies, products and retail techniques
The franchise contract lasts for three years and is renewable for another two three-year terms.
Franchisees of this drug store shall pay a royalty of 1% of total monthly sales, payable every 15th of the next month.
How to Franchise: Application Procedure
1. Franchisee should prepare to submit a letter of intent, a map of target location, resume with colored photo ID and a filled out pre-franchise qualification form from this URL: thegenericspharmacy.com/frform.php.
2. Franchisee shall be evaluated.
3. If qualified, the franchisor shall contact and meet the franchisee for discussion of the franchise agreement and terms, as well as the business game plan.
4. Preparation of needed requirements, payment of franchise fee and application of business permits.
5. Operate.
Contact Details
For more details, feel free to reach TGP through the following:
Opening Hours: Monday to Saturday 7:00am to 6:00pm
Address: Km.14 West Service Road, Cul de Sac corner Edison Street Sun Valley, Paranaque City 1700
E-mail: customercare@tgp.com.ph
Phone: (632) 821-1111;
Fax:  (632) 821-5304, (632) 821-6103, (632) 823-0267
Posts that you might like: