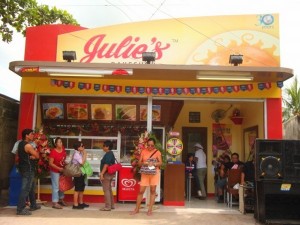 Today's largest bakeshop chain in the Philippines has now over 500 branches nationwide including its first branch in Mandaue City, Cebu that was built on January 6, 1981. Julie's Bakeshop specializes in baking premium loaves, classic Pan de Sal and other most requested pastries in the metro such as:
Cake Rolls (Ube, Buko Pandan, Butter, Chocolate and Strawberry Roll)
Classic Bread (Cheese Streusel, Ensaymada, Mongo Basket, Pan de Coco, Pan de Sal Pinoy, Pan de Sal Putok,
Fried Products (Binangkal, Donut, Siakoy and Fried Bread)
Premium Loaves (Carrot Raisin, Cheesy Purple Yum, Choco Coffee Overload)

The Difference of Julie's Bakeshop:
It is committed to provide excellent customer service in a clean environment, where products are being offered in very affordable prices perfect for people from different walks of life. It prioritizes teamwork, integrity, trust and proper communication within the employees to avoid improper attitude towards work.
According to Joseph R. Gandionco (President & CEO of Julie's Franchise Corporation) Julie's Bakeshop is now a growing corporation that comprised by driven individuals with only success in mind. It's not after the profit-earned but henceforth to deliver freshly baked goodies each and every day to satisfy your cravings.
History of Humble Beginnings
Julie's Bakeshop is founded by Mrs. Julia Gandionco who was busy making ends meet by running three canteens when she exerted her efforts to learn everything in the baking industry, it was the time the first branch of the bakeshop was established in Mandaue City Cebu way back in Janaury 6, 1981.
In June 24, 1999 it was awarded with a Plaque of Recognition as the "Success Story of the Year" from Cebu Business Month Grand Chamber and also in June 9, 2000 "Outstanding Small and Medium Scale Entrepreneur Award" was also given to Julie's Franchise Corporation.
How to Franchise
Submission of the initial documentary requirements:
a. Letter of Intent
b. Personal Resume
c. Location Map
d. Site Photos
Initial site inspection and interview with the Franchise Business Development Officer. (at least 50 square meters is required)
Submission of the Site Market Study
Pay the Php35,000 Application Processing Fee
Franchise Business Development Officer will conduct Market Verification
Undergo the physical exam, psychological exams and background investigation
Pre-Panel Interview at the Regional Office
Final Panel Interview at the Cebu Head Office
The initial investment prices range from Php1, 770,000.00 up to Php2,000,000.00 including the following:
Franchise fee
Security deposit
Business development
Start-up costs
Building renovation costs
Machinery and equipment for bakeshop
Every successful applicant as franchisee will enjoy the privilege to operate Julie's Bakeshop for exclusive 5 years.
Contact Details:
Cebu Office – (032) 261 7117 to 19
Manila Office –(02) 6422683/ 6435024
Davao Office: (082) 2820136
Email Address: info@juliesbakeshop.com.ph
Posts that you might like: