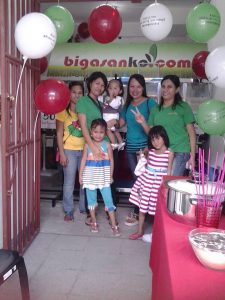 Rice is the favorite staple food of Filipinos.  We just can't literally get through the day without eating at least one rice meal.  Since rice is one of the necessities of every Filipino, looking for a business venture that deals with such would be a great idea after all.  Bigasanko rice retailing is different among the rest of the rice retailing industries because of the network that it has and the promotions and campaigns that they launch which makes it a very competitive player in the market.
About Bigasan Ko rice retailing
Ramilton James Alenton is the brains behind Bigasan Ko rice retailing.  He worked as an OFW in a major retailer in the Cayman Islands (Caribbean) for six years.   During his stay there, he was able to sit in five important positions in the company one after the other.  As an OFW, he dreamt of putting up his very own business someday.  After saving enough capital to start his business venture, he conceptualized the startup business that he intended to pursue and that is Bigasanko.com.  Within three years since its launch, 53 stores were already opened.
Franchise Packages Available:
FRANSHIP or Franchise Sharing Partnership:    Php 1M
De Luxe package:                                                         Php 750,000
RTO – De Luxe package:                                             Php 550,000
Silver Franchise Package:                                          Php 550,000
RTO – Silver Franchise Package                               Php. 350,000
Franchise term:  3 years
The standard Bigasanko retailing franchise package inclusions:
Store
Signage
Tarpaulin
Marketing collateral
Use of Bigasanko.com 7 Type commercial Rice dispenser
Digital weighing scale
Php 40,000 worth of initial inventory of rice
NFA Accreditation and License for selling Commercial Rice Products
BKC Price tags
com Sales and Inventory System
Deluxe Package to Franship Package has access to the special system with special services to customers such as:
prepaid loading stations
Western Union outlets
bills payment centers
processing sites of specified National Statistics Office (NSO)
passport renewal transactions
airline ticketing agencies
BPI Globe Banko
Franchisee Requirements:
Completed application form
Letter of intent
Location map
initial deposit
Checking Account for the easy term payment
Photo copy of 2 government issued IDs
2 copies of 2 X 2 recent picture
Steps on how to franchise Bigasan Ko Rice Retailing:
Attend the franchise orientation.
Submit all the initial requirements to our Head Office. It can be sent through email for OFWs.
Initial payment should be secured.
Send at least three proposed location with site map.
Once your target location is approved, you need to attend the scheduled trainings.
For More Information Contact the Franchise Manager
Feel free to reach Bigasan Ko rice retailing in any of the following contact details:
Office Address: 1318-D G/F Reza Building, Quezon Avenue, Quezon City
Telephone: (02) 373-3608 to 09 / (02) 373-3605
Mobile Number: 0977-1666430 / 0925-8017344
E-mail: info@bigasanko.com
Website: www.bigasanko.com
Facebook: https://www.facebook.com/bigasanko
Twitter: www.twitter.com/bigasanko2011
Posts that you might like: