TK Takoyaki:  Bringing a Taste of Japan With in Your Reach.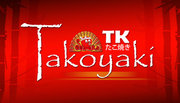 Takoyaki is a savory ball shaped Japanese dumpling perfectly grilled in a special takoyaki pan. Even though this is a Japanese cuisine TK Takoyaki makes it easier for us to enjoy this tasty Japanese treat.
A typical takoyaki is filled with diced baby octopus, some vegetables, green onion and some tempura scraps. It is a wonderful thing that even takoyaki is a foreign cuisine we Filipinos loved and patronized it. TK Takoyaki took this great advantage of starting a Takoyaki Food Business.
TK Takoyaki:  Cooking with Pride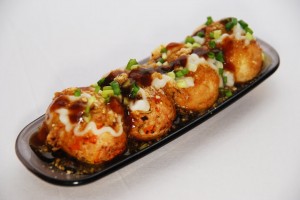 TK Takoyaki started officially at Odeon Mall in Recto, Manila. At first they serve freshly cooked takoyaki partnered with a refreshing Red gulaman, afterwards they were able to add other specialties like siomai and fried squids (calamares).
Founders Marites Villaflor, her husband Antonio R. Villaflor and her eldest son Mark Anthony Villaflor helped hand in hand to build this fantastic food business concept. They developed their own takoyaki derived from the traditional Japanese takoyaki. They adjusted its taste that will surely fit the Filipino taste buds.  They never feared of crossing their boundaries, because of this they were able to reach their goals. TK Takoyaki is now one of the well known brands in the food franchising industry.
TK Takoyaki has already proven that they are the best. They already gained the trust of their customers. People continuously support and avail TK Takoyaki.
Get your TK Takoyaki Franchise Now.
TK Takoyaki wanted to expand and add more stores all throughout Metro Manila. They are open for franchising. These unique franchising features that TK takoyaki has will really get your interest in getting a franchise.
Franchise details:
Online Franchise Management (OFM)
This is an innovative way of handling your franchise business. With this unique feature you can:
Monitor all of your business' finances and accounting history
Automatic stock monitoring
24/7 message board
Automatic royalties computation
Automatic supply delivery  and supply shortage alert
Relocation Policy
Free 2x a month Technical Assessment
Free operation supervision and checks (this needs to be scheduled)
This makes sure that the way you operate your TK Takoyaki business is aligned on how they operate.
Free weekly crew training
1 day orientation
6 day hands-on training
Terms of contract: five (5) years
Franchise renewal: 30% p.a. of your current franchise value.
Franchise package includes:
Initial supply worth of Php. 6,000.00
Start up Equipments
Business permit (assistance in securing forms for legalities)
Opening assistance
(OFM ) online franchise management feature
Advertisements
Promotional tools
This the perfect food cart business you are waiting for. TK takoyaki offers franchise package that cost no cash bonds, no hidden fees, and no royalty.
Interested? Here are TK Takoyaki's Contact details and avail of their franchising promos. Avail now, be one of those who made the right choice. Call now and see the difference.
Address: 792 Alegerucas Street, Sampaloc Manila
Tel.: (02)559-4975 or (02) 743-9567
Telefax: (02) 711-0679
Mobile Number: (0922)8868051
Email: admin@tktakoyaki.com