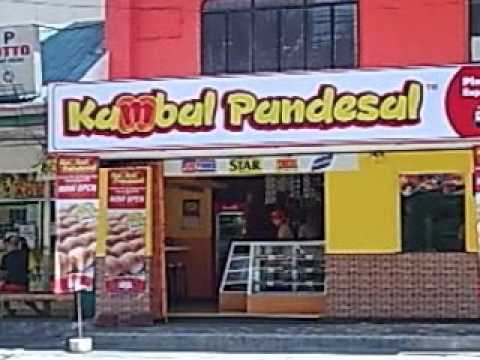 The Filipinos love to eat. You will see snack businesses everywhere: on the sidewalks, in malls, inside transportation terminals, there are even those peddlers that sell food on the streets! One under-serviced food stuff that people love to eat is food — pandesal, especially.
Ahh, pandesal. That sweet, salty, crunchy delicious bread we  love to eat for breakfast when we wake up from a restful slumber. Lots os people love to put margarine and melt it in the hot delicious bread, some put condensed milk in it, some dip it in their morning coffee. However we enjoy our pandesal, one thing is for sure, this Spanish influence is embedded in teh Filipinno culture.
With the lack of good pandesal shops in the country, Kambal Pandesal offers good business in a food niche that has not a lot of suppliers. You can start your own bakery business without all the hassle, just look into this franchise.
About Kambal Pandesal
Kambal Pandesal is a bakery business started and operated by San Miguel Food corporation. The business uses San Miguel's pre-mixed bread flour that ensures perfect bread each and every batch, no skilled bakers required. The on-site baking shows the customers that the breads are made in a hygienic fashion and are made fresh every day.
Kambal Pandesal Products
Kambal Pandesal Mainlyu offer pandesal and stuffed pandesal:
Pandesal
Hotdog Pandesal
Pandesal Espana
Pan de Kape
Pan de Coco
Kambal Pandesal offers also other backed goodies that can be enjoyed not only at breakfast:
Ensaymada
Crinkles
Whole Wheat Breads
Current Branches
Kambal Pandesal currently operates over 200 branches (and counting) some of them are in the following areas:
Cubao
Valencia
Pasig
Congressional
Dagupan
Marilao, Bulacan
Santolan
Makati
Pampanga
Pangasinan
How to Franchise: Kambal Pandesal Franchise Fee and Inclusions
The franchise fee of Kambal Pandesal is P350,000.00. The franchise fee is inclusive of the following:
Equipments

Two Deck Gas Baking Oven
Spiral Mixer 12.5kg
Stainless working table
Cooling Rack 24 Layers
Bread Display Case
Proofing Rack (2 columns @ 24 Layers)

Initial inventory
Marketing Materials (tarps & fliers)
Acrylic Store Signage
Selected site assistance
Crew training and workshop
Dedicated post-opening tech support
Periodic store audits to help the quality in top shape
How to Franchise: Kambal Pandesal Franchising Process
1. The first step is to set up an appointment with their franchising agent in Greenhills, San Juan. a franchise presentation will be discussed, along with the franchise package and fees and other details regarding the franchise.
2. Then after the franchise presentation, you will submit a prospective location. Kambal Pandesal will evaluate the the location and if they deem it suitable, you may pay the franchise fee.
3. Pay the franchise fee of P350,000.00.
4. You and your crew will be trained to make bread, operate and manage the store and some tech skills needed to operate a business. This process lasts two weeks, because we need to ensure that the bakers will have enough skills and the management is capanble to keep the franchise business profitable.
5. Start your Kambal Pandesal business!
Contact Information
Want to start your own Kambal Pandesal Franchise? You can use the following contact information
Hotline    : (02)-585-9116
Smart      : 0919-513-1287
Globe      : 0917-502-5446
E-mail     : inquire@kambalpandesal.co
Or, you can contact them through using the contact form they have on their site: