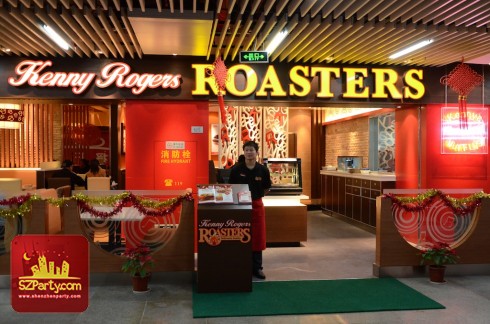 Delicious grilled chicken. Many people love a nicely roasted chicken. So simple yet so delicious. Filipinos are natural chicken lovers, as it is evidenced by our native dished that employ the use of chicken meat. This chicken loving country is a great market for a restaurant that focuses of roast chicken like Kenny Rogers' Roasters. What's even more exciting is that Kenny's meals are geared to the healthful side and the trend today focuses on health, wellness and beauty. Luckily, Kenny Rogers Roasters is open for franchising.
 About Kenny Rogers' Roasters
As the name implies, Kenny Rogers' Roasters was started by the country singer, plus his friend, John Y. brown. Together, they started the first outlet in Coral Spring, Florida in August 1991.
To date Kenny Roger's Roasters have more than thousands of branches around the world, and countries that enjoy the delicious wholesome home-cook style meals include Malaysia, Singapore, China, Indonesia, Brunei, Philipines and very soon in Qatar.
Why Franchise Kenny Rogers' Roasters?
Kenny Roger's Roasters is the brand name recognized by Filipinos and foreigners here in the Philippines, as well as abroad. The name Kenny Rogers only equate to two things: the Singer and the healthy restaurant. People who are health conscious will patronize the brand constantly as restaurants that focus on healthful delicious meals are rare.
The price of the menu are super competitive.
Kenny Rogers is an expert in the food industry, both in managing the restaurant and in maintain a business. The system they use will be yours if you opt to become their franchisee.
Kenny Rogers' Franchise: Fees and Requirements
The franchise fee for Kenny Rogers' Roasters is $25k, and the business will incur a royalty fee of 5% of gross income each month. Total franchise investment is $250k, which includes the franchise fee.
The franchise fee includes:
Benefits of being a part of our Family
Exclusive territorial development rights
Ability to own and operate Kenny Rogers Roasters Restaurants
Roasters Restaurants
Right to sub-franchise, giving you the right to start another Kenny Rogers' restaurant without paying the franchise fee again.
Ability to sell specified products to food service industry
Starting Your Kenny Rogers' Franchise and Contact Information
To start a Kenny Rogers' Franchise, you can click here to start franchising at their official website, or you can contact the franchise manager through the following details:
Website: www.kennys.com.ph
Phone No.: (02)893-6067 loc.625, (02)817-0748, (02)893-1021, (02)893-5958
Fax No.: (02)893-5031, (02)817-0748
Address: Roasters Philippines, Incorporated, 6/F Slc Bldg., 6797 Ayala Avenue cor. Va Rufino St., Makati City, Philippines
Posts that you might like: