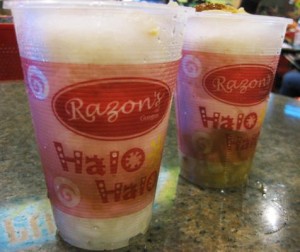 Razon's Food Corporation, the home of the most authentic Kapampangan food and other native Filipino favorites has always been company-owned, but due to the increasing number of customers and demands, they decided to go into an expansion program by opening its doors to interested franchisees. In their goal to provide the best tasting Filipno cuisine to the public, they are sharing their recipes to their future business partners. Franchisees will have the privilege to partner with one of the country's best restaurants with minimal capital investment but with higher earning opportunity.

Company Background
Razon's of Guagua opened its first Metro Manila outlet on July 8, 2003, at Robinson's Galleria. Their primary products include their famous halo-halo, pancit luglug, and ensaymadas. Upon discovering the authentic and delectable food served in Razon's customers started pouring in. Now, Razon's has 43 branches in Metro Manila not counting those found in Pampanga, Laguna and Tagaytay. Despite their growing popularity, Razon's never stop introducing new flavorful menus to attract more customers and hopes to share more of the Kapampangan food experience to Filipinos living in different parts of the country.

Main Products and/or Services Offered
Halo Halo
Pancit Luglug
Other Kapampangan specialties and Filipino favorites

No. of Branches
Franchise Information
Franchise Fee: P1.5M
Total Franchise Cost / Investment:  P3M and above
Payback Period in months: Depends on location
Franchise Package Inclusions
Use of Razon's brand name
Operations Manual
Management and crew training
Marketing and advertising support
Pre-opening assistance
Grand opening assistance

Contact Details:
For more information with regards to the Razon's franchise, you can get in touch with them through the following contact details.
Office Address:121 Chateau Condominium Valle Verde 1, Pasig City
Telephone:+6326716223
E-mail: info@razonsofguagua.com
Website: http://www.razonsfoodcorp.com.ph/
Facebook: https://www.facebook.com/RazonsofGuagua
Twitter: https://twitter.com/RAZONSOFGUA
Posts that you might like: