Minute Burger Franchise: Serving the Best Tasting Burgers for More than 20 Years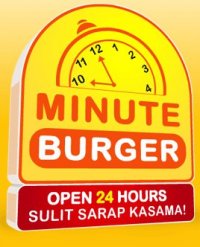 They have been serving us the best tasting burgers for more than two decades now, and still their quality is as best as ever. They have more than 350 stores with 100 franchised stores all over the country and their number is continuously growing.
Minute Burger has been developing and making the best burgers since 1982 and yet they are still continuing to make delicious burgers to every Filipino. It is wonderful to see Minute Burger opening opportunities to us Filipinos to take great advantage of our market. They offer affordable food business concepts to many entrepreneurs and provided job availability in the country.
Minute Burger: Invading the Country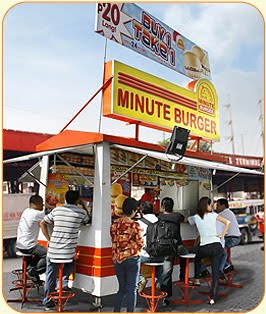 Minute Burger is now a strong brand. Their food cart and kiosk franchises are scattered all over the Philippines, commonly seen in the major cities such as Metro Manila, Cebu, Davao, Pampanga and Cagayan de Oro and hopefully more stores will be seen in more cities.
Maybe one of the reasons why Minute Burger is so popular is because they believe that quality and speed of service is really important in this type of business. They wanted to provide the best quality of food product in a most efficient time. Their target is the "ON-THE-GO" customers. They make sure that the can make burgers fast, affordable yet quality will never be compromised.
Franchising: A Simplified Business Designed Just Right for You
Their franchise system is not as complicated as others. They designed a franchising system that simplifies their business operation that is beneficial to their franchisee. They created a centralized system. As a franchisee you will be receiving all the support you need in running your Minute Burger Franchise. They developed automated supply chain software so you can focus in managing your store without worries that you will run out of stock. They will provide everything you need in your Minute Burger Franchise Business.
Interested? Find out More.
Join us, be a part of our growing family. Minute Burger Franchise Package costs from Php 525,000 with an additional Php 30,000 working capital. Here are more details how to get a Minute Burger Franchise.
Franchise Package:

1. Business Operations Support
• Site Evaluation Assistance and Store Construction Supervision
• Store Signage
• Guidance in securing Business Permits necessary
• Stock Delivery
• Store Audits in a regular basis
• Operation Manual
• Periodical Finance Review
• Automated Store Management
2. Management Training Services
• Management, Sales and Finance Operation Training for franchisee.
• Product knowledge and Customer Service Technique for service crews.
• On-Site Inspection
3. Marketing and Promotional Support
• Advertising and Promotional Assistance
• Company Newsletter
• Regular Meetings
• Grand Opening Assistance
Contact Details:
Address: Leslie Corporation, 4 Dama de Noche Street, United Paranaque Subdivision 4, Paranaque Phlippines 1712
Website: www.minuteburger.com
Inquiries: https://minuteburger.zendesk.com/home
Facebook: Facebook.com/minuteburger
Twitter: Twitter.com/minuteburger
Email: info@minuteburger.com
customerservice@minuteburger.com
Phone numbers:
Manila office: (02) 776-7740/ (02) 776-7339
Cebu City Office: (032) 345-4053/ (032) 344-4859
Davao City Office: (082) 244-0191/ (082)244-0192
Bulacan Office: (044) 760-5797/ (044) 663-5421/ (02) 775-3436
Cagayan de Oro Office: (088) 885-3491