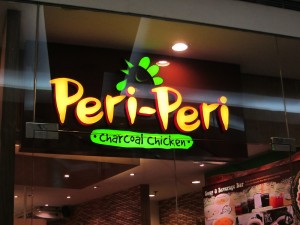 Peri Peri Charcoal Chicken, owned and operated by iFoods Inc., is open for franchising. In fact a non-Philippine branch has just opened in Myanmar. Franchisees are invited in the company's expansion program as it continues to serve the public with high quality food and unique dishes that is truly unparalleled in flavor. Entrepreneurs who are planning to venture into the food business should consider Peri peri Charcoal Chicken. Not only it is a privilege to serve excellent food, being part of a company like iFoods Inc., also holds a promise of a profitable business. Aside from low investment cost and low minimum risk, the company will also provide support to all their franchisees in all aspects of the business.

Company Background
Chicken Peri Peri was derived from an African dish discovered by Portuguese explorers. The name peri peri is another name for the African bird's eye chili.
Peri Peri Charcoal Chicken is a casual quick service restaurant specializing in this world famous chicken dish. It is flavored with the same authentic Portuguese recipe and cooked over charcoal wood burning grill for that extra flavor. The chicken is trimmed of excess fat to make it healthier. Customers have the option to add spice and flavor on their chicken. The restaurant first opened its doors to the public in 2005 and immediately earned patronage from professionals, yuppies, and people from all classes and age group. Today Peri Peri Charcoal Chicken has 4 branches in Metro Manila and just recently opened its first non- Filipino branch in Myanmar.
Peri-Peri Charcoal Chicken Core Products
Peri Peri Chicken
Spanish and Mexican dishes such as Fajitas, Quesadillas, Rappa
Soups and Salads
Rice/Combo Meals
Pastas

Franchise Information
Franchise Fee – PHP 896,000
Total Franchise Package – PHP 8,521,087
Terms of Franchise – 5 years renewable
Royalty Fee – 5% of total gross sales
Advertising Fee – 3% of total gross sales
Projected Return of Investment – 30-36 months

Franchise Package Inclusions:
Use of Trademark and logo
Comprehensive operations manual
Extensive training in Restaurant operations
Marketing and Advertising assistance
Continuous product innovation and retail development
Contact Details:
For inquiries regarding Peri Peri Charcoal Chicken franchise, you may contact them through the following contact information.
Address: I-Foods, Inc. Unit 5, 2nd Level City Center Building 38 Ortigas Avenue Greenhills,
San Juan, Metro Manila, Philippines
Contact Person: Mr. Marc Joseph Bernisi, Franchise Officer
Tel: ((+632) 705-1496 loc. 103
Fax: (+632) 723-6033
Email: bernisimarcjoseph@gmail.com / ifoodsincfranchise@gmail.com
Website: http://www.ifoodsgroup.com