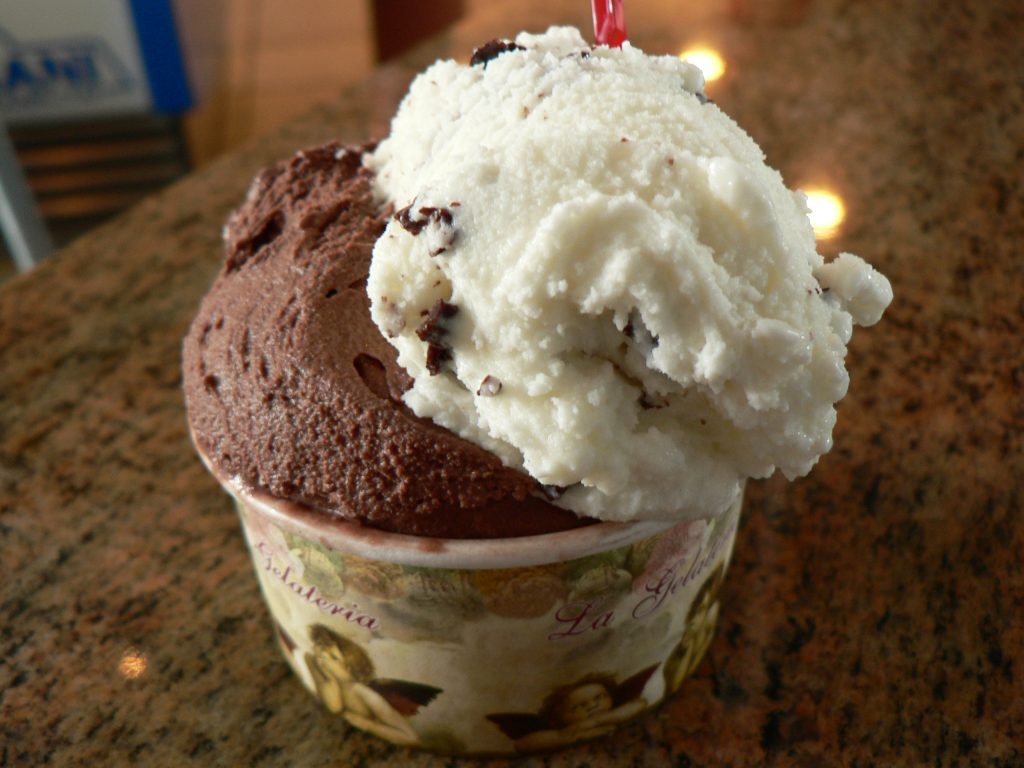 Everyone knows how much of an inferno the Philippines could become during summer and the Filipino people are all doing all they can in order to alleviate the increased heat index and imminent illness that can come with the heat. This is why ice cream products are very popular in the country and you can easily hear a vendor selling ice cream around the neighborhood, because even during Christmas, it is still a little hot. Therefore, the "cold" market is always thriving in the country and this is also why malls are so popular because everyone is taking a refuge in the air-conditioned walls of the mall buildings. Take advantage of this and franchise an ice cream cart or store now!
Soft Ice Cream Food Cart
Another one of the franchising packages offered by the company Foodcartlink Services (FCL) and is a guaranteed success, because of how the expansion rapidly works and how customer retention remains high for a long time.
Franchise Information
This food cart franchise costs P114,000 and is inclusive of the following:
semi-high end built cart (not collapsible)
soft ice cream machine
utensils
initial inventory
crew uniform
video training and operations manual
costing and pricing
e-loading business (optional)
Food Cart Products
different flavors of soft ice cream
different dips and toppings
suggested retail price is about P7–P15 per serving
Contact Details
Website: foodcartlink.com
Email: info@foodcartlink.com
Landline: (02)340-0156
Sun: 0922-862-6154
Smart: 0921-951-3522
Globe: 0917-848-3522
Address: FoodcartLink Services, 3/F Rubetan Bldg. (ICC Las Piñas), #88 Alabang-Zapote Rd., Pamplona, Las Piñas City, Philippines.  (in front of Tuazon Village)
Fiorgelato
One of the most famous cold products today is the gelato, which originates from Italy and other parts of Europe. Fiorgelato is managed by Milkin Corporation and is a successful Filipino-Italian venture which caters to various people and establishment since 1989.
Franchise Information
There are three franchise type to choose from including the Kiosk Type, Counter type, and of course, Café type. There is no disclosed franchise fee or investment fee because it is negotiable, so make sure to strike a great deal with the management, but the following inclusions are standard:
1 unit of Fiorgelato freezer
1 set of glass canopy
1 set of Fiorgelato or Fiorcafe logo and name lighted sign
12 pieces of Tubs / gallons (ice cream containers) with aluminum casing
1 set of menuboard with beam
6 pieces of co-branding uniform
1 set of merchandising materials
4 pieces of tables
16 pieces of chairs
1 set of cabinet with sink and drawers
2 units of blender
2 sets of railings with post and logo sign
1 set of smallwares
1 unit of espresso machine
1 unit of coffee grinder
1 unit of coffee brewer with double decanter
1 unit of waterpump for espresso machine
1 unit of milk thermometer
1 unit of display chiller
1 unit of oven toaster
1 unit of microwave
1 unit of two door worktop chiller
Contact Details
Website: www.fiorgelato.com
Email: milkin_mktg@yahoo.com, kiosk1263@yahoo.com
Telephone No.: (02)524-0384
Fax No.: (02)524-0385
Address: Milkin Corporation, 1263 Gen. Luna St., Ermita, Manila, Philippines
Miguelitos Ice Cream
This is just started as a small family business in Paco Manila, around 2002, but it goes on to prove that nothing is impossible because it has managed to expand itself and is now up for franchising in order to support growth.
Franchise Information
There is a P300,000 franchise fee and is inclusive of the following:
Food Cart with Signage and Equipment
Initial Stocks for 2 days
Staff Uniform
Training Program for required employees
Manpower Recruitment
Store Grand Opening Assistance with Mascot Appearance (Complete with Flyers and Pastoral dedication)
Site Assistance (preferably mall location)
Miguelitos Ice Cream Franchise is renewable for another 3 years with a fee of P60,000.
Contact Details
Website: www.miguelitoscorp.com
Facebook Page: www.facebook.com/micafe.home
Twitter Page: twitter.com/TeamMiguelitos
Email: miguelitoscorp@yahoo.com
Phone Nos.: (02)822-5028
Fax No.: (02)822-5028
Address: 8888 Marian Rd. 2 SMDP Parañaque City, Philippines

Softy Ice Cream
After an income-generating family gathering, the family decided to give it a try and turn the ice cream into a profit. With only 2 square meters of public space in the market and 9000 pesos of starting capital, they have managed to expand into 120 outlets nationwide and they achieve all of these in a matter of two years!
Franchise Information
Ice cream machine is optional since you may purchase from other sources.
SEA brand new machine :  Php 295,000.00
Reconditioned machine :  Php 180,000.00
Taylor brand new machine :  Php 265,000.00
Standard Cart/ Kiosk  –  Php 120,000.00
Initial Inventory/ Supplies  –  Php 30,000.00
Security Deposit  –  Php 50,000.00
Franchise Fee  –  Php 100,000.00
Total :  Php 300,000.00
Contact Details
Address: SOFTY ICE CREAM
#137 Katipunan St., Concepcion Uno,
Marikina City, Philippines
Telephone Nos.: (632) 998-2114 / 998-2077
Fax No.: (632) 941-8163
Email: mrsoftyphil@hotmail.com
Frozo Soft Ice Cream
One of the products offered by LBT Food cart link services (LFS), this is an affordable ice cream cart for new entrepreneurs who wishes to try their hands on business. They have compelling designs that attracts customers and delectable ice cream that satisfies cravings for more.
Franchise Information
Frozo soft ice cream food cart package price: Php 139,900
Franchise package inclusion:
Semi-High-End Built Cart (not collapsible)
Soft Ice Cream Machine
Storage Box
Video Training and Operations Manual
Initial Inventory of products
Crew Uniform
Ice cream bell
Utensils and other equipment
Costing and Pricing: SRP: P7-15/serving
Optional e-Loading business to generate more profit
Different flavors of Frozo soft ice cream
Various dips and toppings
Contact Details
Address:
Food cart Link Services
2/F RFC Shoppers Plaza
Alabang – Zapote Rd. Pamplona, Las Pinas City
Telephone No.: (02) 340-0156
Mobile Nos.: 0922-862-6154, 0917-848-3522, 0921-951-3522
Email: info@foodcartlink.com
Website: www.foodcartlink.com
Posts that you might like: