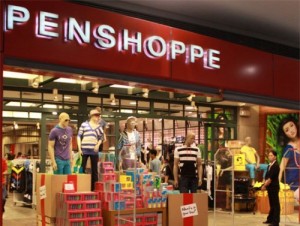 Fashion is one of the fastest growing industries in the country and Penshoppe is one of the leading brands in casual wears for years. As one of the pioneers in the retail industry, Penshoppe has gathered awards over the years for its trendy and quality apparel available at affordable prices. It opened its doors to franchising in 2010 and has built outlets not only within the country's borders but also in major cities around the world. Franchisees will largely benefit in investing with such a reputable brand as Penshoppe for the company will provide every investor with the tools and materials needed for the business. Supplied with a wide selection of sophisticated and modern clothing, a franchisee is guaranteed not only a profitable business but also the trust of customers.
Company Background
Penshoppe, the flagship brand of Golden ABC, was established in Cebu City, in 1986. What started out as college project between friends became one of the leading brands in casual clothing in the Philippines. Spearheaded by Bernie Liu, who later became CEO, Penshoppe soon conquered the Visayas and Mindanao market. It migrated to Manila in 1991, as it opened its SM City North Edsa Branch. Since then Penshoppe has grown into numerous branches scattered in every key areas nationwide. In 2002, this homegrown clothing retailer opened its first store in Xiamen, China. Now, Penshoppe has stores in the Middle East, Southeast Asia and even Australia. In 2018, the company is set to bring the brand to Lebanon, Iraq, Syria, and Yemen. Penshoppe continues to expand globally with its array of merchandise that can match international brands in terms of quality and style. It is endorsed by famous international celebrities like Kendal Jenner, Cara Delevingne and Ian Somerhalder, among others.
No. of Branches
Company – Owned: 600
Franchise Outlets: 23 international
Benefits of Franchising Penshoppe
Because of its business model, there is a higher success rate than starting a business from scratch
Penshoppe is already an established and trusted name in the industry.
Financing institutions will easily provide financial assistance if you are investing in a reputable brand like Penshoppe.
A franchisee will be assured of high profit when success formulas are applied such as low-cost supplies, proper placement, and good marketing techniques.
What to Consider When Franchising Penshoppe
Make sure that you really want to own a clothing retail franchise and you think that this is the best business venture for you.
It is essential that you can keep a harmonious relationship with the Penshoppe franchise for your own interest. You are welcome to visit one of the Penshoppe stores to help you be more aware of their operations and proceedings.
Make a careful study of the Franchise Agreement, the Terms and Conditions, and every detail that is included in the franchise contract.
Find out if the Penshoppe franchise is compatible with the rules and regulations implemented in your chosen location.
Choosing the best location is one of the key to a successful business. Make sure that your location has a suitable environment for your business.

Franchise Application Procedure
Write a Letter of Intent
Submit vicinity map of proposed location
Submit completed form to their email address or you can go directly at their office
Potential franchisees will Franchise Application Form
Site evaluation
Qualified applicants will be called for follow-up meetings.
Contract signing
Contact Details
If you are interested with the Penshoppe Franchise, contact them through any of their contact information below:
Website: www.penshoppe.com, www.goldenabc.com
Facebook: Page: www.facebook.com/penshoppeofficial
Twitter: www.twitter.com/penshoppe
Email: shop.penshoppe@goldenabc.com
Phone Nos.: (02)422-2800, (02)366-7151 to 61
Fax No.: (02)422-2900, (02)361-4111
Address: PENSHOPPE (Main Office), 1155 EDSA Balintawak, Quezon City, Philippines