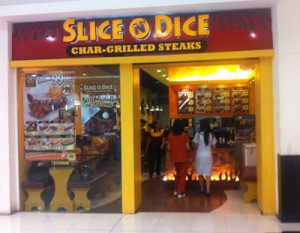 Slice N' Dice is one of the first and fastest growing steak fast food chains in the country. In fact, it currently has 10 company-owned branches, each of them generating profits as the company continues to grow in fame and in patronage.
It is the restaurant's goal to be internationally recognized as the first Filipino restaurant that serves quality steaks at affordable prices. To fulfill this objective, Slice N' Dice invited entrepreneurs to invest in their restaurant. Being part of a popular food chain has many benefits among them putting up a business with an established name in the industry and having a trusted support group to guide you throughout the contract.
Company Background
Among the numerous fast food giants competing in the market, Slice N'Dice has managed to stand out by being the first to serve steaks to the common Filipino consumer. Steaks are usually referred to as the "rich man's food" but the company thought that by making this meal available to ordinary customers at affordable price, they will end up with more clientele and thus more profit. This is exactly what happened to Slice N' Dice. Their P199.00 char-grilled T-Bone steak has many variations and is the most popular. The success of the restaurant was attributed to their low-cost quality steaks and cozy, modern ambience. Today, the restaurant has more than 20 franchise outlets strategically placed on ideal locations in the country.

No. Of Outlets:
Company owned _ 10
Franchise Outlets – 22

Franchise Information
Slice N' Dice offers 3 Franchise packages so investors have the option to choose depending on their investment budget.
Steak Express
Food court counter-style set up
Franchise Package – P1.5M – 1.9M
Store area – 15-25 sqm
Off-Mall Full Store
Stand alone set up located outside mall area
Franchise Package – P2M – P2.5M
Store area – 45 -65 sqm
In-Mall Full Store
Store set up located inside the malls
Franchise Package – P3M and above
Store area – 60-90 sqm                
All franchise packages share the same details indicated below.
Franchise Fee – P500,000
Royalty Fee – 5% of monthly gross sales
System-Wide Advertising Fee – 2% of monthly gross sales
Franchise Term – 5 years renewable
Store space requirement – 100-150 sq. m.
Projected Return of Investment – 2.5 – 3 years depending on store size and sales

Franchise Package Inclusions
Store site location
Site lay-out and construction
Fabrication of stainless equipment and furnishings
Supply of store's appliances, utensils, and equipment
Staff recruitment and hiring
Comprehensive management and staff training program
Processing of Business Permits
Complete construction works and Project management
Launch events and marketing program
Signage and graphics
Initial inventory
Pre-launch and grand opening support

Contact Details:
If you are interested in acquiring a Slice N' Dice franchise, you can inquire at the following contact details:
Address: U-Franchise Sales and Management, Inc. Unit 2807 Jollibee Plaza, F. Ortigas Road, Ortigas Center, Pasig City
Tel: (02) 384-4004, 566-8106
Email: snd.franchise@gmail.com
Web:  www.slicendice.com.ph
Posts that you might like: