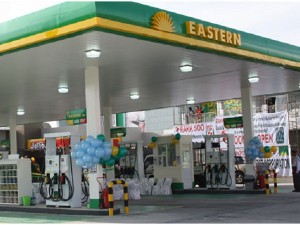 The mission of Eastern Petroleum Corporation is to augment the country's economy by providing world-class and environment-friendly products and to support Filipino entrepreneurs. As of 2013, Eastern is set for a rapid expansion program aiming to double its retail outlets across the country. The company has this Dealership Program that gives investors options in choosing the type of dealership they want. Every dealership choice will get equal support from the company to ensure that the investor will succeed in their business venture. It is the company's objective to make things easy for franchisees as they seek a better earning opportunity.

Company Background
Eastern Petroleum, founded by Fernando Martinez opened its first gas station in Pasig City in 1997. After almost 20 years, the company has continuously supplied quality petroleum products and services to the public. Aside from serving the regular motorists with retail petroleum products, Eastern Petroleum also serves other industries such as shipping, construction, and other distributors. Their Depot has a 5 million liter capacity so they are able to supply petroleum products to their 36 gas stations found in Luzon, Visayas, and Mindanao. Because of their rapid growth and continuing service to people, Eastern Petroleum Corporation is currently one of the leading independent oil companies in the Philippines.

Types of Franchise
Basic Station (1 or 2 Islands and 2 pumps) – Investment starts at P2 Million
Regular Station (2 Islands and 3-4 pumps) – Investment starts at P5 Million
Large Station (3 Islands and at least 5 pumps) – Investment starts at P8 Million

Main Products and/or Services Offered
Fuel Products
Lubricants
Liquefied Petroleum Gas

No. of Branches
Metro Manila – 5
Luzon – 24
Mindanao – 7

Franchise Information
Franchise Fee – P250,000 for Full Franchise
Total Franchise Cost / Investment – P3,000,000 and above
Payback Period in months: 40 to 60 months

Franchise Package Inclusions:
Marketing Study and Vehicle Count
Civil and Mechanical works (Gasoline Station Canopy, underground tanks and Pumps)
Use of Logo and Registered Trademarks
Marketing Materials and Paraphernalia
Marketing and Operation Manuals
Inclusion in the Advertising Program
Initial Set of Training of Staff and Manager
Training and Price Updates

Site Requirements
Lot must be at least 400 sq. meters and above
Frontage must be 25 meters and above
Site must be in rectangular, square or L-shape
Must be at least 10 meters away from any creek
Must not be affected by flood during heavy rains or typhoon
Streets near the site must not experience heavy traffic throughout the day

Contact Details
For more information on the Eastern Petroleum franchise, you may get in touch with them through the following contact details.
Office Address: 7th Floor Cityland Pasong Tamo Tower, 2210 Don Chino Roces Avenue, Makati City
Telephone: +6328176443
Mobile Number: +639178677079
E-mail: ejmartinez@easternpetroleum.org
Website: www.easternpetroleum.com.ph
Facebook: https://www.facebook.com/EasternPetroleumCorporation
Twitter: https://twitter.com/EPCorporation