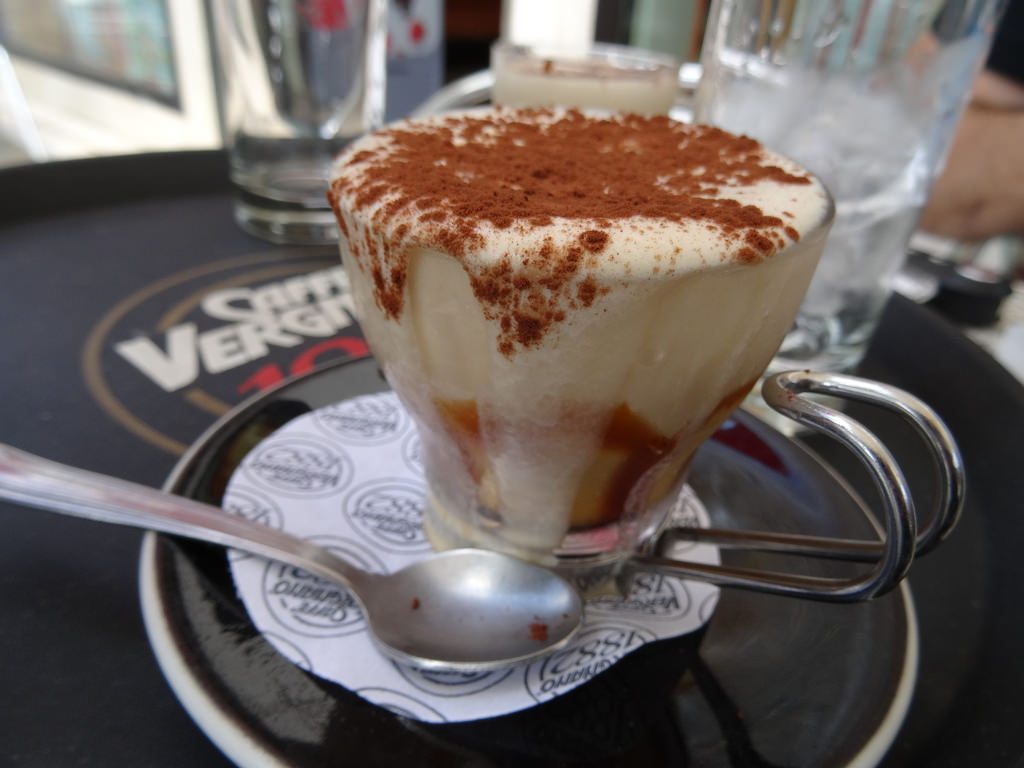 Filipino people are coffee lovers. Remember how everyone keeps drinking hot coffee even though the country is naturally hot, even on rainy season, which is because they cannot help themselves, but take that cup of coffee. It is like Great Britain with their addiction to teas, teas, and more teas. For us Pinoys, coffee is life. No wonder the coffee and frappe industry is continuously thriving right now and you can see a frappe cart almost everywhere, especially in the malls and littering the schools because Filipinos need to be caffeinated in order to be fully awake, because this is ingrained in our culture and memories, that coffee equates energy, even though all it really gives are palpitations. Hence, if you have little time to manage a large-scale stores, they go for frappe franchises which may save you capital, extra expenses, and hassle!
Farronccinno
It is said that this business is borne out of love. Young couple, Farwa and Hombre, shared a common passion for coffee beverages in their younger years while studying at a local university and even until they started a family. Both believed in the idea that good coffee and those popular frappe drinks should be enjoyed by every Filipino regardless of their social status. Start your franchise with this top franchise opportunity.
Franchise Information
The estimated capital investment is about P500,000 to 1.8M, inclusive of Franchise Fee, which is P168,000. The location size requirement is around 4-12 square meters. You may choose between these three types:
Cart – offers frappes and smoothies.
Kiosk – products offered are: frappe and smoothies, hot drinks and over ice (espresso machine is not included in the package)
Full Café – frappe and smoothies, hot drinks and over ice, milk tea and yogurt.
Contact Details
Website: farronccinocafe.com
Facebook Page: www.facebook.com/FarronccinoCafe
Email: farronccinocafe@yahoo.com
Phone No.: (02)208-3321
Mobile No.: 0922-803-3322
Address: 49 Magnolia St. Roxas District, Quezon City, Philippines
Foss Frappe
Ice-blended coffee and ice-blended ice cream has never been this easy and this delicious! The Filipino people would be really grateful to you for bringing Foss Coffee closer and more accessible to them. Since the foundation of Foss Coffee, everyone could not get over the creamy-taste of the frappe blends and how the chocolate fits perfectly well with the coffee and milk bases. Today, there are over 36 branches scattered nationwide and they are up for franchise in order to promote expansion and growth.
Franchise Information
The package fee is about P195,000 and is already inclusive of the following:
Cart
Equipment and Utensils
Uniforms
Initial Stock Delivery
Use of Trademarks
Site Approval
Procurement Program
Training for Franchisee, Supervisor and Staff
Opening Assistance
Operations Manual on Loan
Research and Development
The initial term is about four (4) years and needed a continuation fee of P3000 per month after expiration. Furthermore, the total capital investment would be P300,000 and a requirement of four (4) square meters for the site location.
Contact Details
Address: Unit 303 Moldex Residences, Paso de Blas,
Malinta, Valenzuela City, Philippines
Contact Person: Mr. Edmar Odulio Batac
Mobile No.: 09239561770
Email: edmarbatac@ymail.com
House of Frappe
Filipinos have a special love for homes that would never go away and they value family more than anything and the House of Frappe knows all of this, so he created a business that would capture the finicky taste buds of Filipinos and ensures that the products are lovingly made, thus House of Frappe are now offering Chocolate-based, Coffee-based, Creame-based, and Yogurt-based Frappe beverages in order to fulfill the needs and cravings of the country.
Franchise Information
You would need about P250,000 for the package and an initial fee of P50,000 for three different types or concepts: the Frappe, Yogurt, and Pearl Shakes, but the package includes the following:
Mall Cart
Use of Trade Name and Logo
Equipment Package for Stalls
Site Approval
Training and Manpower
Procurement Program
Opening Assistance
Operations Manual
Research and Development
Entire Business Set-up for Cart & Kiosks
2 sets of Crew Uniforms
You have about four (4) years of contract and needs to pay P3000 per month for the continuation fee and provide a location site of 6 square meters in order to be accepted for franchise.
Contact Details
Contact Person: Ms. Myra Dela Cruz
Hotline: (02) 475-6164
Mobile: SUN (0943)145-7686 / GLOBE (0906)362-7152
Email: houseoffrappe@yahoo.com
Redbucks Coffee Shop
Well, since you cannot franchise a starbucks, go for similarly-named frappe seller—the Redbucks Coffee Shop! They started in 2009 with classic cold coffee drinks and espresso cups in SM City Baliwag, and now they have 30 outlets scattered nationwide, and only serves as a reminder that simplicity matters and that Filipinos would come back to those who provide honest services and passionate end products
Franchise Information
There are different types of franchise packages to choose from and below is the list of your choices:
P200,000: School and Mall Cart
P250,000: Kiosk-type provided by malls
P300,000: Bigger Mall Cart
P350,000- Kiosk-type for malls
The expected income upon franchise is around 30,000 to 200,000 pesos every month (for malls) and about 20,000 to 100,000 every month for small establishments.
Contact Details
Tel No: (044)931-7893 Mobile No: SUN (0925) 7711-092, Globe (0905) 668-0802, Smart (0998) 374-6837
Email: redbucksphil@gmail.com, redbuckscoffeeshakes@gmail.com
Website: www.redbuckscoffeeshakes.com