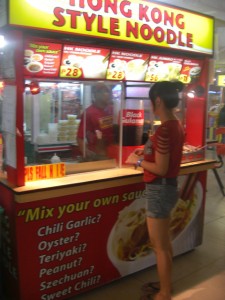 When my friends discovered that I blog (took them long enough to notice) about food carts in the Philippines, they asked me to teach them to blog. Now, I won't turn them down, but I had a condition, though: they would have to review food cart franchises with me and they complied.
First up, Hong Kong Style Noodle Franchise.
This particular food cart on the picture was taken at V-Mall (formerly Vira Mall, I don't have an idea why they changed the name recently) in the Great Eats section.
By the way, the girl who is standing there is my friend Paula, and this shot was taken with permission. (And with a little bribe.)
Hong Kong Style Noodle is known for its small menu but big choices by giving their customers the liberty to tailor their order to their taste. Oxymoron? Let me explain.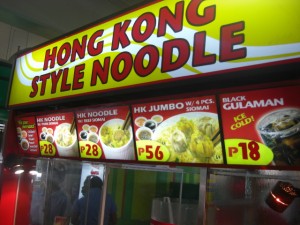 Look at the picture above. Not much of a plethora of food choices, isn't it? Actually the menu just says, fried noodles, fried noodles, fried noodles and gulaman. (Yes, I am trying to sound clever.)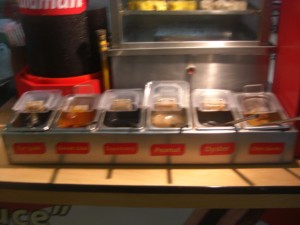 However, the magic comes with the picture above — with an offering of six different types of sauces and with you having no restrictions on how much and what combination, choosing can be challenging… and fun. This made Hong Kong Style Noodles become an instant hit and is still making waves, even after almost four years.
There. What is your verdict, Paula?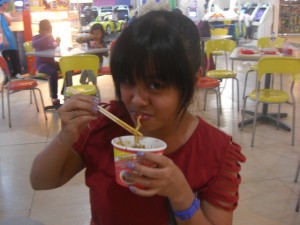 Yup, she says, delicioso.
How to franchise Hong Kong Style Noodles? The franchise fee is P120,000.00. Check them out at:
Asia Pacific & Global Franchise Co.
Unit C-4 Dunville Condominium,
Castilla St. Brgy. Valencia,
New Manila, Quezon City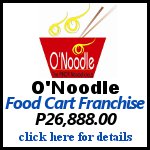 If the franchise fee is too hefty for you, you might want to try Filtreprenuer's O' Noodle Franchise. Same concept, smaller food cart, P26,888.00 franchise fee. CLICK HERE TO KNOW MORE.