Potato Corner Franchise: The Potatoest Potatoes Just Around the Corner
Potato Corner is the number one food cart business in the Philippines who really understands the Filipino taste buds.
Potato Corner had been operating since 1992, and as the years go on Potato Corner became known to people in the cities and even all through out the country. Potato Corner manage to multiply their Potato Corner food carts up to 200 carts nationwide in just two years after they started their fried potato food cart business. They did dare to expand even globally. Potato Corner successfully opened their food cart business in some countries in Asia such as Indonesia and Malaysia. They even pushed their luck and started opening their food kiosk in Panama and even the United States.
Potato Corner was good enough to shaken the American taste buds, this made them even braver to enter Singapore, Thailand and the Middle East.
Potato Corner: The one who stand still after the great storm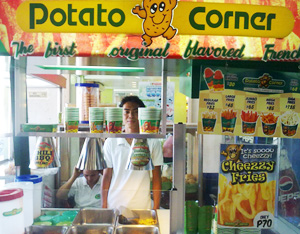 Despite of some diversity that they encountered in their journey Potato Corner managed to surpass all the obstacles they had. They were able to surpass the 1998 Asian Economic Crisis that made some businesses down for some time. They were able to stand firm with the help of their well trained staff who still provided an outstanding customer service despite of their struggles.
Potato Corner is owned by one of the biggest food franchising company. Cinco Corporation, the company that owns and manages Potato Corner is setting up their goal to even exceed their revenue this year after the great economic struggles.
Cinco Corporation has still the positive vision that Potato Corner will exceed what goal they set, after all the struggles our economy is experiencing.
Why settle for the Second Best?
You don't want to sign a business contract to some business that is not as stable as Potato Corner. Potato Corner had established their name since 1992. They were the first flavored French fries and now are expanding their popularity nation wide and even out of the country.
Potato Corner doesn't want you to miss this chance of being a part of their fast growing company. Here is your checklist how to own you Potato Corner Food Cart Business.
Fill out Your application form
Fill out and submit you application forms so you will be assessed and oriented of what documents you need to prepare so you can own a Potato Corner Food cart.
Select your proposed Potato Corner Food cart location.
It is good that you will find a good site location. You must consider the site location, you business will be successful if you also have a good site location.
A Potato Corner Food cart may cost as much as Php 335,000 – Php 400,000 (kiosk with roof and sittings) Php 270,000 (standard Cart) Php 190,000 (School Canteen: cart, small ware and equipment)
Own a Potato Corner Food Cart now, and the estimated return of your investment will turn around 6 months. The earlier you start the earlier you will earn back. Sign that contract.