Goldilocks Franchise Philippines – More than Just a Fairytale Character
A recipe of luck, prosperity and hard work that is what Goldilocks bakeshop is made of. A family who shared the same passion in baking ventured into entering the door of business world, and because of their hard work and determination Goldilocks became the country's no. 1 bakeshop.
In 1966 sisters Milagros and Clarita together with their sister-in-law, Doris opened their first store along Pasong Tamo Street in Makati. These women have a strong passion in baking and were not afraid in venturing into a bakeshop business that soars to a great success after years of hard work.
Their first day total earning was only P574 and in 2007 it reached total sales of P5.9B. Goldilocks also helped the economy by giving employment to over 2,000 employees.
Goldilocks also changed how Filipinos describe Goldilocks. For Filipinos Goldilocks means more than just a fairytale character but also the No. 1 bakeshop in the Philippines. Goldilocks became a Filipino brand, a brand we Filipinos are proud of.
Have a Taste of Success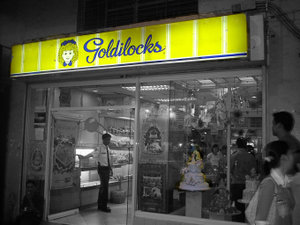 Be a part of Goldilocks Family and experience the success they are savoring from the time they started up to these days.
Over 40 years of being the country's No. 1 bakeshop they already have the trust of millions of customers all over the country and even overseas, no wonder they already have more than 200 stores in the Philippines and abroad.
Goldilocks had mastered an excellent operating system that leads them to success and this excellent operating system is shared to each and every Goldilocks Franchisee. Their training system will surely create a strong framework to support every Goldilocks store franchises.
Goldilocks always have the freshest business concepts and updated looks of all Goldilocks stores.
Franchise options
In 2005 Goldilocks receive the Hall of Fame award for being the Outstanding Filipino Franchise of the Year and Awarded as The Super brand Seal of Recognition. This show that you are sure of the great success you will have being a part of the Goldilocks Family.
Here are the details of getting a Goldilocks bakeshop franchise: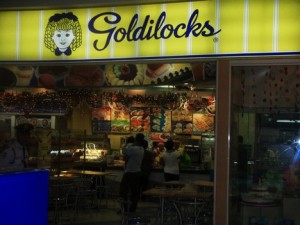 Franchise Fee: P 800,000 (VAT exclusive)
Investment cost: P6 – P8 M
Store size Requirements: Minimum of 60 sqm and Maximum of 80 sqm
Bakeshop and Restaurant (Full Store)
Franchise Fee: P 1.2 M (VAT exclus
Investment cost: P10 – P13 M
Store size Requirements: Minimum of 150 sqm and Maximum of 200 sqm
Crossing the Border
Goldilocks has been a part of every Filipinos celebration that is why Goldilocks crossed the borders just to share the happiness to Filipinos overseas and to give pride to the Philippines as well, Goldilocks opened stores abroad giving Filipino investors a chance to export Goldilocks Products giving them more profit to enjoy.
Now we can share Filipino cuisines not just to the Filipinos abroad but to other nationalities. Goldilocks is open in exporting their world class baked products and Filipino cuisines. Goldilocks' products are now available in Canada and in the United States.
Goldilocks a Filipino brand a brand that has been a part of every Filipino tradition.
 You can start inquiring for franchise through: