Plato Wraps: "Great Meals in Small Packages"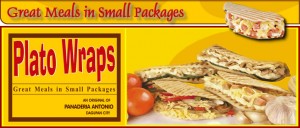 Plato Wraps is a wonderful and original idea by Antonio and Kamela Seen; owners of Panederia Antonio. Plato wraps is one of the best food product concept that originated from Dagupan, Pangasinan. This food business has been a successful food cart business concept owned by Antonio Seen; he was able to manage to increase his store number. Currently Plato Wraps has more than forty one (41) stores that can be seen most of the time inside some malls, supermarket, offices and some schools, fifteen (15) stores is company owned and the rest are franchised.
As a child Panederia Antonio wakes up with a smell of baked goods from his father's 50 year old bakery giving him the idea of creating this fantastic food business concept.
A Budget Meal Wrapped with Love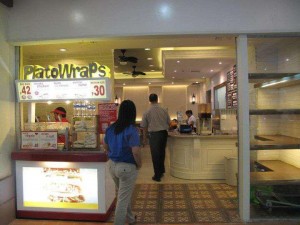 Plato wraps is like a set of meal wrapped in grilled flat bread, served hot and ready to eat. Customers can enjoy this ready to eat wrapped meal and there are varieties of fillings to choose from, they have chunky chicken, yummy tuna, wrap 'n roll, ham & cheese, pizza, and for the health conscious buyers the can enjoy the Plato Wrap's very veggie fillings.
This food product gained its fame around 2001when they started a food cart business approach in the Metro. They opened their first stall in one of the popular mall in Metro Manila. SM Megamall became their first home in Metro Manila in 2002, at the end of this year their franchised stores boomed like mushrooms at SM Malls, Ayala Malls, and Robinson's Malls.
Until now Plato Wraps is still overwhelmed of their success. They had been distinguished as a market leader in the grilled wraps and sandwich food service sector.
Plato Wraps: Dedicated to Provide Quality & Healthy Food
Their mission is to be able to provide quality and healthy food to their custmomers. Plato wraps is successful with their mission, they are continuously providing the best food service that their customers needed. They keep on creating new ideas to be able to adapt to their customers changing needs.
Plato wraps never failed in providing the best service and the quality food products to their customers that is why they manage to be one of the strongest franchising businesses in the Philippines.
Join Us: Be a part of our growing family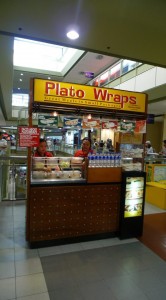 You too can be as successful as Plato wraps. If you believe that we have the same vision here are all the details that may help you decide in purchasing a Plato Wrap Food Business. Franchise now and you will see the difference. Plato Wraps is not like some ordinary food cart business.
Franchise Package includes:
Site Evaluation
Complete Plato Wrap Set Up
Cart
Chiller
Training
Central Purchasing
Ongoing Assistance
Research and Development
Franchise fee: Php 150,000- Php 200,000
Total Investment: Php 400,000
Address: 301 Crisologo Comp.,Tapuac Dist., Dagupan City, Pangasinan
Tel. Number: (632)532-3177, (632) 523-1034
Fax number: (6375) 515-7692
Email: platowraps_2000@yahoo.com
Posts that you might like: