Happy –Haus Donuts: Creating Affordable Quality Donut Products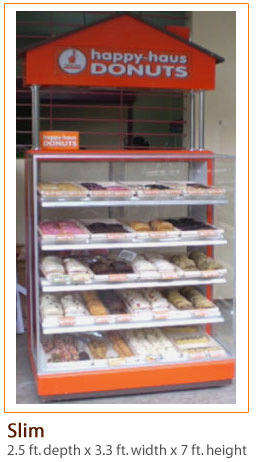 It was only 2005 when Happy-haus Food Corporation started this incredible food concept. The company wanted to create donut products that are affordable to all but not limiting its quality.
As any other companies, Happy-haus' goal is to be the best donut retail company in the country and even abroad. They believe that the price of their food product will not limit the quality they can give to their customers. The company is still continuing to provide quality service to every Filipino and they even wanted to increase the volume of their loyal customers who are continuously loving and enjoying their affordable and delicious donuts.
To ensure that Happy-Haus will continuously be able to provide the best quality service they will never stop in looking for strategic sites to open franchise stores in order to increase their store numbers, they will always drive their sales growth through their great operation strategy and they will never fail to prioritize innovation in their product development and looking for alternative sources of raw materials for their best tasting donuts.
Happy-Haus: A Wise Investment for Every Filipino
The birth of Happy-Haus Donuts opened doors to many Filipino who wanted to have a business that would be able to help them reached their individual goals. Happy-Haus Donuts gave opportunities to many entrepreneurs; they were able to formulate a fantastic business that will help many Filipino Families.
Happy-Haus Donuts wants to provide a low –cost franchising system that will drive and attract many entrepreneurs. The company offers a strong support to their valuable partners such as assistance in site location by giving feasibility studies and evaluation of location, helping their franchisees with the store lay-outs, providing crew training programs, on the job training, franchise orientation and a franchisee will never feel alone, there will be a store opening and post opening support from the company there will be a mascot appearance, directional signage, balloons, freebies, product tasting and more.
As a franchisee Happy-Haus guarantees that you will be enjoying your partnership with them through these benefits like:
A Franchisee will be able to use the Business Name and Trademark.
There will be a Business System ready for the Franchisee to use.
Quality Menus are prepared it ensures you of high quality donuts to sell.
A franchisee will surely enjoy the Marketing and Promotional Assistance from the company.
Franchising Requirements Checklist:
Letter Of Intent
Resume or Bio-Data (providing at least  three (3) character references)
Proposed site with vicinity map
Photo of the proposed site location
Non refundable Processing fee of Php 2,000**
Total Investment: Php 35,000
Franchise fee: Php 10,000 (non refundable)
Security Deposit: Php 20,000 (refundable)
Consumable Inclusions: Php 5,000 (packaging, crew uniforms, etc.)
**there will be a Php 2,000 surveying fee as mentioned earlier
Contact Details:
Address: Suite 1104 11/F West Trade Center, 132 West Avenue, Quezon City, Metro Manila, Philippines
Tel: (632) 376-6393 / (632) 414-4491
Fax: (632) 410-9084
Mobile: 0922-8538078 / 0917-5757334
Email: happyhaus_main@yahoo.com.ph  / happyhaus_wtrade@yahoo.com
Website: www.happyhausdonut.com
Posts that you might like: